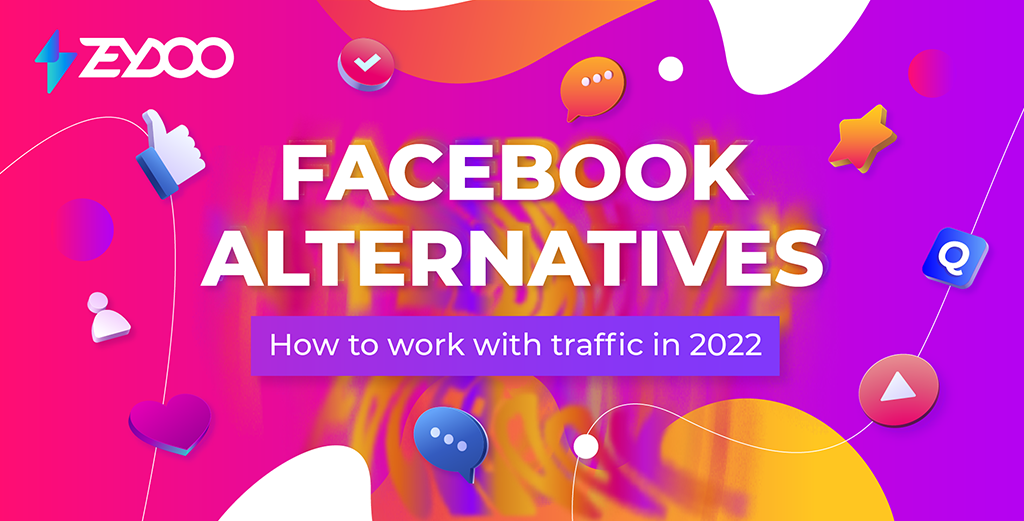 Alternatives to Facebook Ads: What Are Your Options?
It's common for experienced and beginner affiliates alike to work exclusively with Facebook Ads. There is no denying that Facebook was a great traffic source for a very long time. But, recent changes to the platform's policy have transformed it into one of the most difficult sources for affiliates to monetize and scale.
Below, we'll go over the reasons why Facebook Ads is becoming a difficult traffic source to work with and share 7 great alternatives you can use to generate traffic.
Is Facebook Ads Still a Reliable Traffic Source?
Users share a huge amount of information with Facebook proactively, but the social media network is becoming an unstable traffic source for affiliates.
For starters, Facebook is banning advertisers at an alarming rate because of their industry, affiliations, and similar reasons.
The platform has also garnered a reputation for delivering poor services to its partners and taking a huge amount of time to answer simple requests. Lastly, Facebook Ads has added a huge number of rejection reasons, which limits the formats and overall freedom that advertisers enjoyed in the early days.
7 Powerful Alternatives to Facebook Ads
Let's take a look at some of the top Facebook Ads alternatives advertisers can opt for.
1. TikTok
TikTok is one of the leading independent social networks and it has more than 1 billion monthly active subscribers. The platform is most popular with 18 to 34-year-olds and it's ideal for B2C products and services in general.
Pros
More than 1 billion users
Features a variety of ad formats
It's affiliate marketing friendly
Cons
Relatively high CPC rates
2. YouTube
YouTube is the second-largest social media platform on the planet, although it doesn't follow a conventional structure. The video-based platform is perfect for ads targeting 20 to 55-year-olds and it provides exceptional results when used for fitness, home and garden, and technology campaigns, among others.
Pros
Huge audience
Suitable for affiliate marketing offers
Ads are extremely effective
Cons
Involves a learning curve and only allows video ads
3. Snapchat
Snapchat revolutionized social media platforms when it introduced its short, temporary video clips or snaps. Since then, the platform has amassed more than 550 million active monthly users, most of them between the ages of 19 and 35 years old. The social network is ideal for new app installations and for lead gen in general.
Pros
Huge collection of great ad formats
It's easy to use
Allows for affiliate marketing
Cons
Relatively young audience
4. LinkedIn
As you may suspect, LinkedIn is perfect for B2B offers because it's used by more than 675 million professionals worldwide. The average LinkedIn user is between 25 and 59 years old, which means that these users have exceptionally high acquisition power.
Pros
A social network geared towards professionals
Perfect for B2B products
Allows video, images, and text ads
Cons
Involves a steep learning curve in most cases
5. Quora
Quora is a great place to promote all niches and industries because the Q&A platform is used to answer all types of questions. The platform has about 300 million monthly active users of all ages and it's known for being affiliate marketing-friendly.
Pros
Allows for granular topic researching
Text, image, and promoted answer ad formats
It's compatible with affiliate marketing
Cons
Most users are US-based, which may not be ideal for most GEOs
6. Reddit
Similar to Quora, Reddit is a platform where users ask and answer questions in a forum format. This network has more than 430 million monthly active users and more than 100,000 communities that have specific interests in common.
Pros
Most tier-1 users (US, Europe, and Australia)
Doesn't always require a learning curve
Compatible with virtually all verticals
Cons
A limited number of ad formats
7. Pinterest
Pinterest is an awesome platform for promoting jewelry, accessories, handmade goods, and similar products. Moreover, Pinterest has more than 320 million monthly active users, most of which fall between the ages of 18 and 49 years old.
Pros
A wide range of ad formats
It has extremely effective ads
Reaches a great audience (18 to 49-year-olds)
Cons
Limited GEOs (mostly US users)
Find the Best Offers at Zeydoo
At Zeydoo, we help connect top advertisers with leading social media affiliates across a wide range of industries. To learn more about developing an impactful campaign on a Facebook alternative, get in touch with Zeydoo and our team will be glad to help.
Here, you can find the best offers for social media traffic: Zeydoo
Most Popular
Finance Surveys: types of financial surveys and how to work with them 

Zeydoo provides a dozen of Finance offers in our Smart Surveys category, but you're still not sure what the difference is? Then this article is for you – here we'll…

read more

New deal for Rewardis: giving away a ticket to AW in Bangkok! 

Let's get straight to the point. We're going to AW in Bangkok on December 7-8 and we're giving away a COMPANY TICKET to anyone who will increase their traffic volume…

read more

Gear-Up: get the 7% of your profit increase for increasing traffic volume

Zeydoo is starting the new season with this Promo to help you boost your profit. No special effort needed, just increase your traffic volume and get the 7% of the…

read more