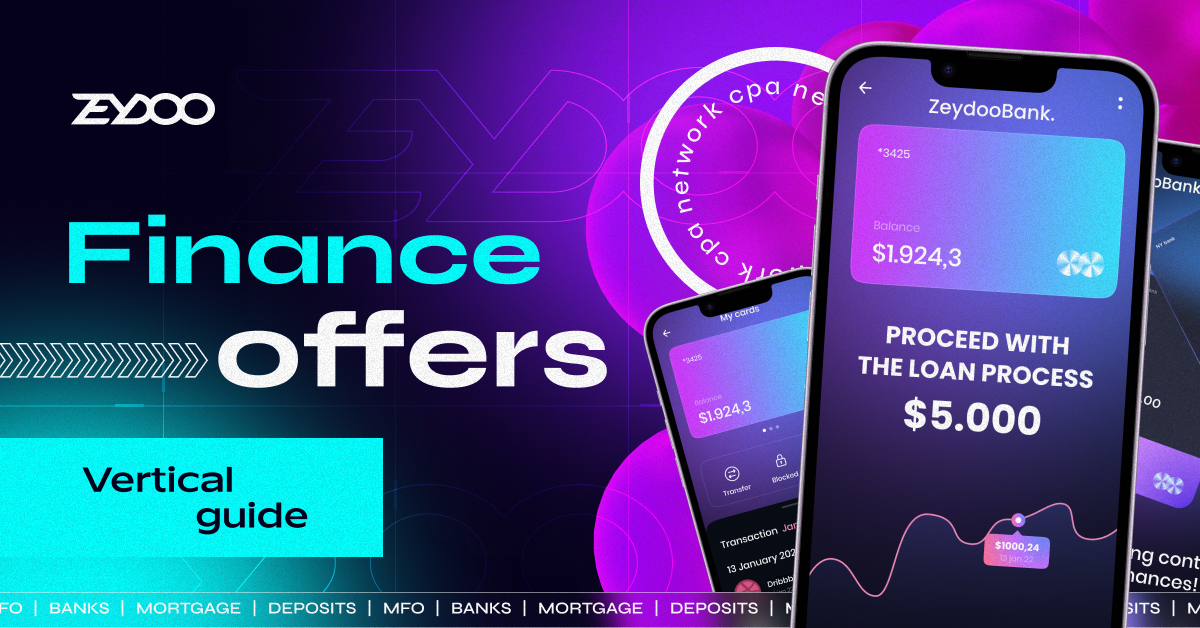 Driving traffic to finance offers: vertical overview + tips from media buyers
Finance vertical in media buying is one of the most stable branches with big volumes, high rates and the opportunity to get the ROI you expected every month. In Zeydoo we deal with thousands of conversions in finance each month and are ready to share our experience.
In this article you'll see: how to get profit with finance, what difficulties you can encounter and where you can lose money as well as some details on types of offers, sources of traffic and tips of driving traffic from our media buying. All based on real examples of working offers.
Finance offers: advantages and difficulties
Finance offers are essentially banks and payment systems that are ready to pay for issuing new cards, opening new bank accounts, loans, insurances, deposits on investment accounts, MFO. The target action is determined by the advertiser and will be indicated in the offer's card.
Why finance offers are profitable:
In most cases the offers are from brands with good reputation that earned trust on the market – which means the audience already has some loyalty towards them => higher CR;
Big target audience – all users of age. Which helps to have wide targeting, lower CPM and give the ad campaign more space for scaling;
Great choice of target actions: you can work with microloans, forms filing, collecting leads via a form on the website, issuing a card in a bank or other target actions set by the advertiser;
High payouts: depending on the target action, the rates go from $1 to $100 and higher;
White offers help predict ad budgets and profitability. You can have stable ROI every month, especially if you drive some high quality traffic.
Before starting tests of finance offers it's important to remember that this is not going to be a quick trip. It means you won't be able to withdraw big sums of money quickly, because in most cases the margin is not more than 20%.
But the more you optimize the campaign and the cleaner your whitelist in an ad network is getting, the more money you'll have. Following lack of constant bans and the fact that you set the campaign up once and then just spend up to 30 minutes on optimization – we can say that finances are a gold mine.

What difficulties you can have with finance offers:
Long hold – an average time period for checking traffic is from 15 to 90 days depending on the advertiser. Mind that especially if you have a restricted budget on tests. Yes, after tests you can get a shorter hold if the affiliate network is willing to take the risks and pay you before they get money from the advertiser. To achieve that you'll need to build trust while working with the network and send more than several thousand dollars of quality traffic;
Choosing offers and launching campaigns – you need to think hard about who your target audience is. For example, those who take micro loans won't probably convert on a landing with a consumer loan. And those who are interested in getting insurance in the bank won't be interested in investments or making deposits.;
The right emphasis in creatives and restrictions on promotions – well-known banks and big financial organizations usually ask to control the creatives that media buyers use since they value their reputation. So, before each launch you will need to get a pass on creatives with the network's support. In Zeydoo it takes just a few minutes, but it is a necessity so that you know for sure the advertiser will pay everything they owe you for your traffic. Also, while approving the creatives we get rid of mislead which makes the quality of traffic better and in the future you can get bumps to base rates for good CR;
Long way to get big profit, especially if you start with a small budget. This is not only because of a long hold, but also not the highest ROI that only improves with time after optimizations and bigger budgets;
Restrictions on traffic sources. Some offers have strict bans on some sources and if you work with one of them, it becomes a problem. We recommend having at least 2-3 sources to alternate and get the most of the offer;
People with a bad credit score can be denied in getting consumer loans, micro loans or credit cards. This is why it's important to make the right emphasis on creatives and take into account the possible percentage of invalid leads.

Working with finance demands a thorough approach, a more detailed close-up on the target audience and patience. But with due diligence the investments and time spent will pay off ten times.
Types of offers
In the finance vertical there are several categories of offers working on CPA and CPL. Let's talk about the main types of finance offers and differences between them. .
Bank card (debit or credit)
This is about issuing a credit or a debit card of the advertiser. In such offers the following target actions can be paid for:
Leaving a request on the website;
Issuing cards at a branch of the bank;
Receiving cards via mail and their activation;
First financial operation with a card.
In most cases payouts on credit cards are higher than on debit cards, because not all users can stay within card limit, forget about their payments and then pay more money to the bank. Offers with bank cards usually have the longest hold because the advertiser needs more time to verify the lead.
Offers you can start traffic to now:
MFO
Microfinance organizations (MFO) are private companies offering quick loans with high interests. Usually the sum of a micro loan does not go higher than $10,000 and depends on the GEO. These offers operate quickly: the user can get a microloan in a matter of 30 minutes.
MFO often give loans to people of lower social status and bad credit score. Even though microloans have high interests, they are still in demand because for some people this money is the only way to live honestly before getting their next paycheck. Microloans are also popular among students and more adult people and those who are prone to making impulsive purchases.
Usually with microloans they pay you for a valid request on the website or for a microloan itself.
Offers you can start traffic to now:
Investment accounts
Media buyer gets paid for a user opening a broker account in a specific bank, getting verified and making a deposit. More concrete terms themselves depend on the offers and advertisers. But usually they have the most difficult flow for users. The more steps they user has to make – the less chance of it converting. Make sure to be really thorough with choosing an offer and consulting managers on whether this offer will convert with your type of traffic.
Mortgage, car loans
The most difficult offers for traffic. Mortgages and car loans usually mean big sums of money and a down payment. Which means banks will be checking all clients and their credit scores before approving. The CR is pretty low here, but the rates make up for it. The hold is usually extended with these offers because banks take a lot of time verifying the lead.
If you want to test the finance vertical, Zeydoo can help you get profit from the start and choose the most converting offers with high rates. Register here and your manager will get you the offers for your type of traffic.
Traffic sources
The most widely accepted traffic sources for finance:
Storefront sites that collect lots of offers from different bank or MFOs helping the users to find the best deal for them;
Email marketing with newsletters, one of the most difficult channels, but potentially with higher ROI. The difficult part is to collect the database and avoid getting into the 'spam' folder. They should be collected legally to avoid fines from the advertiser or cuts to the payout (in some countries, like the USA, spamming is actionable);
Contextualized ads. Search ads are one of the 'hottest' ads because people are already interested in cards, loans and microloans. The only restriction here is brand bidding;
Targeted ads, like ads in Meta, TikTok and other social media. They usually require approving creatives. Classical ads, typical for all other verticals;
Teasers, push notifications: banned from many offers, but are not less effective with those allowing this type of traffic. In most cases the creatives also need to be approved beforehand.
In Zeydoo in the offers' cards we list all recommended creatives for the campaign: banners, texts for push notifications and ads. Creatives are quickly approved, and the manager will find offers for your type of traffic for higher CR and easy payments.
Different approaches
Our media buying works with two main approaches: using a pre-landing page or via mobile apps. Because the funnels that use these approaches help keep traffic coming on the more or less same level.
Using pre-landers
A great idea to warm up a potential customer and get them hooked are pre-landers designed as surveys. They usually include 2-5 questions with a 'yes' or 'no' answers or several options.
If you redirect the user straight to the page with issuing a card or getting a loan where they have to fill out a huge form, the user might just close the page without getting to it.
With a survey pre-lander we engage the user right away. In this case the landing page also has a time limit of 5 minutes and after 3 short questions the user sees 'Your request is approved, finish filling the form'. Our customer believes they already have money, they just need to give some more data and take them. This is how we increase CR.
An example of using a pre-lander with finance offers
You can download the pre-lander from this link. And to get the best rates for Santander go to your manager.
Using mobile apps
With this funnel, traffic goes to a mobile app in Google Play. The flow is quite usual and simple for the user:
Click on the ad;
Install the app from the store;
Open it, register and get a microloan in two steps.
This approach has a great conversion rate because users trust apps in the store more than a regular ad. What's more, if the conversion didn't fire right after installing the app, the user can get a push notification and will convert later. And you will get your payout.
Example of a mobile app – Quick Empréstimos rápidos.
Tips from Zeydoo media buying
Here are a few questions that can help you profit more from your traffic. Answered by media buyers from Zeydoo.
What's more profitable with Facebook: pre-landers or apps?
We get high CR and, obviously, more profit from pre-landers. A user doesn't need to download anything and the conversion rate turns out higher.
Which traffic source is of the highest quality for the advertiser?
The 'hottest' traffic with the best quality is PPC. It can be easily explained: the user uses search tools to find information about loans or cards, and that means – the user is highly interested (and motivated).
Is it possible to work with the so-called 'free' traffic from TikTok, YouTube Shorts, Reels? Do you have any cases with them? If so, how different is the quality of this type of traffic from that of the paid traffic?
You can work with 'free' traffic, but we work only with paid traffic. Scrolling through TikTok we did see some finance offers, so someone is definitely doing that. But we can't tell you anything about its quality since we don't work with it. Try testing it and tell us how it goes.
Any tips you can leak to increase CR while working with finance?
In the creatives use people popular in the GEO that you work with and always promise some kind of bonus. For example, free card service or 100% guarantee of getting a loan.
What's the average ROI for finance with your traffic?
In general we have ROI at 60% with paid traffic.
What trends do we expect to see in 2023? How will it influence the profitability with traffic getting more and more expensive?
Traffic is getting more expensive, and rates are sometimes decreasing. That is your sign to find ways to get additional monetization.

All in all, working with finances is a long-term endeavor where you are ready to constantly optimize campaigns along the way to increase ROI. Campaigns have strict regulations regarding creatives and the quality of traffic so that the advertiser doesn't withhold your payments.
If you need finance offers with top CR – register in Zeydoo and our support team will help choose the best offers for your traffic.
Most Popular
New deal for Rewardis: giving away a ticket to AW in Bangkok! 

Let's get straight to the point. We're going to AW in Bangkok on December 7-8 and we're giving away a COMPANY TICKET to anyone who will increase their traffic volume…

read more

Gear-Up: get the 7% of your profit increase for increasing traffic volume

Zeydoo is starting the new season with this Promo to help you boost your profit. No special effort needed, just increase your traffic volume and get the 7% of the…

read more

Driving traffic to finance offers: vertical overview + tips from media buyers

Finance vertical in media buying is one of the most stable branches with big volumes, high rates and the opportunity to get the ROI you expected every month. In Zeydoo…

read more