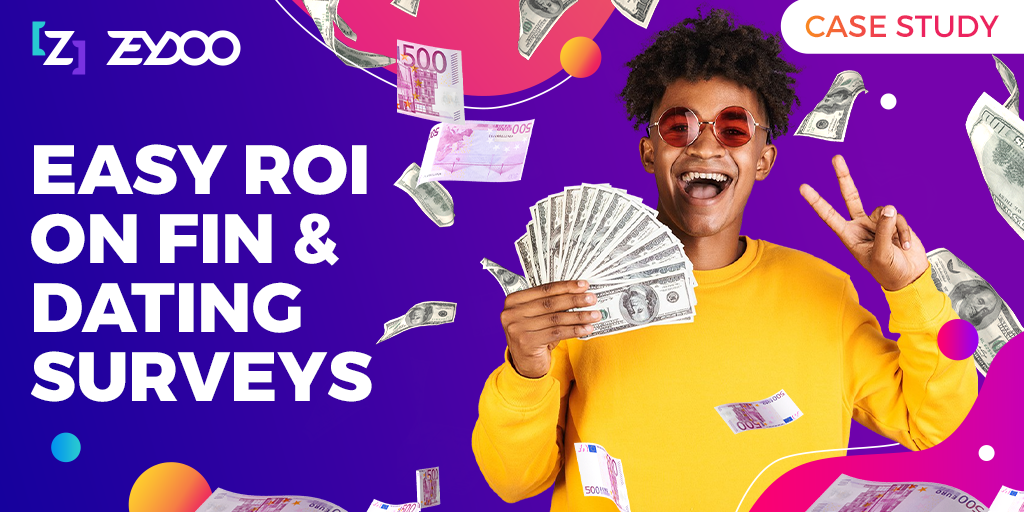 Driving traffic to Zeydoo with a constant profit. What's working right now!
💼 Offers:
#2025 – Finance Survey (Android) – CPL
💻 Source: Push.House
💰 Spent: $5,804.24
🤑 Revenue: $7,590.75
📅 Period: September 21, 2021 – November 15, 2021
👑 CPA Network: Zeydoo
🌎 GEO: СM, GH, NG, BR, AO, and WW
✅ ROI: 30,78%
💎 Profit: $1,786.52
We would like to share with you some of the exciting Case Studies that really work! Today, I'm going to tell you about two powerful combos that perform well with any source and bring a stable income even if you don't know anything about optimization or affiliate marketing.
Please meet – Zeydoo, a CPA Network. Are you ready to be amazed?
Finance Survey – CPL


#2025 – Finance Survey (Android) – CPL

Yeah, it is a Finance Survey. A super simple and awesome offer, an ideal choice for newbies. A vast number of GEOs for your traffic and standard rates.
Choose the "Light Theme" in settings, because this landing page version showed better results, compared with the dark one.
Brazil and Africa targeting. In fact, this offer performs well almost in all GEOs
Absolutely any image with a local currency can be used in creatives: locals with a bunch of money, happy girls under money rain, and lucky ones who suddenly make a fortune. Don't forget please, people should look local – typical for the GEO.
The text should be simple and in a local language. The idea is quite obvious:
Headline: 💰 $ 1,000,000
Text: Want to take it?
Also, you can test phrases like "do you want to become rich?" or "earn N amount per week" and other gimmicks.
Take a look at the creatives that are currently running:


The settings are simple, I would say they're almost defaults. Let's see the Push.House example. This combination you can drive from any acceptable traffic source.
Mainstream should be your benchmark here: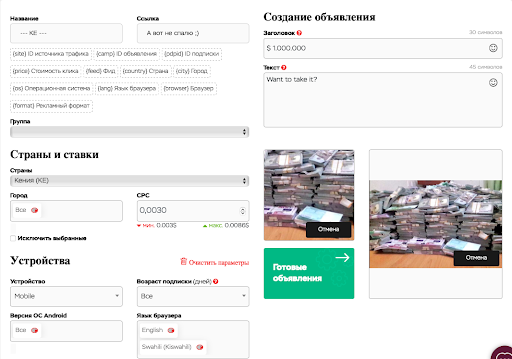 Easy breezy, right? Just set up, launch, and wait for profit. Check out the statistics at the end of this article. And now let's go through the second combination.
Dating Survey – CPL


And yes, it is a Dating Survey. Here you can use everything you like! Women of any age and nationality are the top ones.
A text message should be something like: "you've received the message", "wanna meet me" or the juiciest one: without any hit on, just add a phone number and video chat imitation. Here are the examples:


Well, the settings are the same we had in the first combination, I won't repeat. And please choose a Map Survey landing page:
What's about stats?
And here it is. I would like to highlight again that all combos are currently running and have stable profit. Even when I was writing about this Case Study (November 15th, 2021, 2.40 PM), I was receiving conversions that made it hard to take a screenshot as accurately as possible.
The overall stats:

And don't be fooled by coaches that try to teach you on how to work with this specific vertical. All as simple as it is, you don't need these crooks, save your money!
P.S. I didn't tell you, but: if you use creatives from the second combination in the first one, nothing will change! Tadaam. The conversion will be the same but unfortunately, you'll be banned by your CPA Network, so don't test your luck. A good offer will perform well even with a lame creative – just make the users click on your Push notification.
Most Popular
New deal for Rewardis: giving away a ticket to AW in Bangkok! 

Let's get straight to the point. We're going to AW in Bangkok on December 7-8 and we're giving away a COMPANY TICKET to anyone who will increase their traffic volume…

read more

Gear-Up: get the 7% of your profit increase for increasing traffic volume

Zeydoo is starting the new season with this Promo to help you boost your profit. No special effort needed, just increase your traffic volume and get the 7% of the…

read more

Driving traffic to finance offers: vertical overview + tips from media buyers

Finance vertical in media buying is one of the most stable branches with big volumes, high rates and the opportunity to get the ROI you expected every month. In Zeydoo…

read more