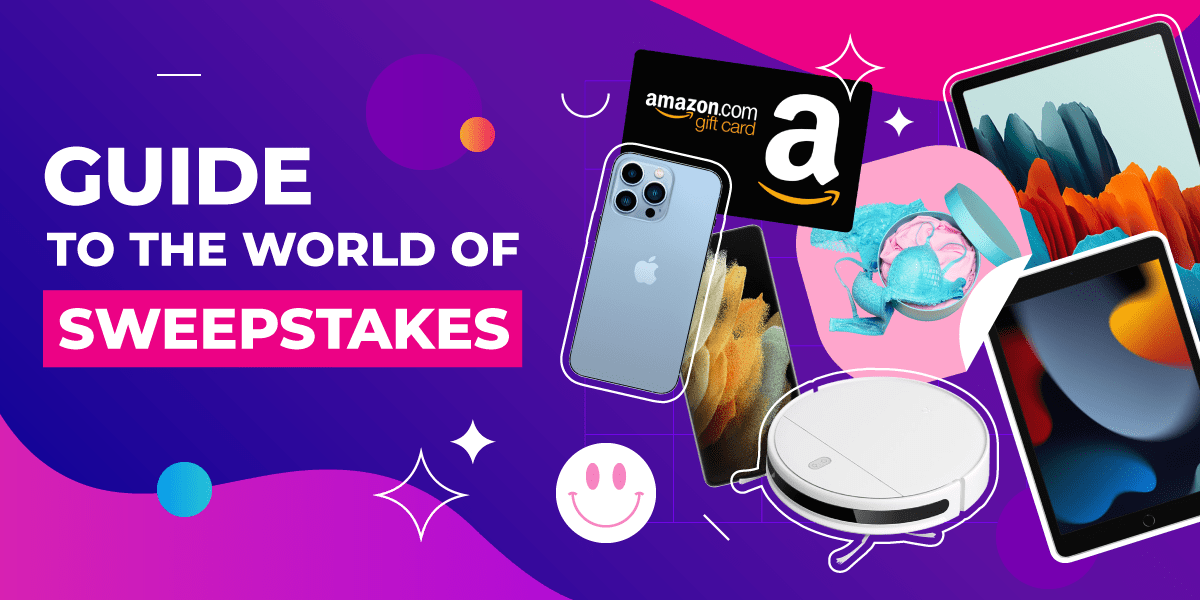 Guide to the world of Sweepstakes
There are many affiliate industries that have the potential to grow exponentially over the next few years, but not many of them are as well-positioned as the sweepstakes vertical.
Already a popular choice among affiliates and advertisers, sweepstakes have been around for decades so consumers are also extremely familiar with this type of promotion. This, in turn, makes this one of the top options for beginner affiliates as well as experienced marketers.
At Zeydoo, we cherry-pick the top CPA offers from leading advertisers who want to work with the best affiliates, so we are very familiar with the trajectory and potential of the sweepstakes vertical. In this article, we will explain what sweepstakes are, how advertisers generate revenue from this type of program, and everything else you need to know about this evergreen vertical.
What Are Sweepstakes?
Before going any further, let's take a minute to define sweepstakes.
In simple terms, a sweepstake offer is a marketing and sales promotion where registered users can win a prize without having to make a purchase. Sweepstake winners are decided randomly, so all users have the same odds of winning once they submit their applications.
To participate, users have to provide their contact details like full name, email address, phone number, and more. Depending on the sweepstake promotion, users may also have to confirm their emails and take additional steps, which we'll go over shortly.
How Do Advertisers Get Money from Sweepstakes?
Before understanding what steps users have to take to participate in a sweepstake (and become a conversion), it's important to understand the different types of promotion that advertisers can run.
The two main types of sweepstakes are credit card submit and email submit promotions.
As the name suggests, credit card submits require users to input payment information in order to participate in the sweepstake. No payment is taken at the submittal, but the user usually enters a free trial period that needs to be canceled to avoid charges. A conversion is registered for the affiliate as soon as the credit card submittal goes through.
Email submits, on the other hand, just require users to provide contact information. This type of sweepstake can be further divided into single opt-in or double opt-in promotions. Single opt-in only requires simple email submittals, while double opt-in sweepstakes ask users to take an additional step and click on the confirmation they receive to verify their emails.
2021: The Breakout Year of the Sweepstakes Industry
The affiliate industry has grown at unprecedented rates over the last couple of years and that trend shows no signs of slowing down. New gadgets and products are being released on a regular basis, which advertisers then use to entice users to participate in their sweepstakes.
Furthermore, more advertisers are finding value in sweepstakes because they can be monetized through direct marketing or by selling the collected data to interested parties. Our research suggests that the number of companies providing prizes for their sweepstakes has increased by 15% over the last few years, which means that the industry is becoming more transparent.
It's no surprise that many pundits see 2021 as the breakout year of the sweepstakes industry because there is renewed consumer interest in this type of promotion when compared to previous years.
Best Traffic Sources
The list of best traffic sources for sweepstakes traffic includes:
Organic social media channels
SMS
Email traffic
Push notifications, although this depends heavily on the creatives and pre-landers used
Where to Find the Best Creatives
The best creatives for sweepstakes vary depending on the locations and audiences being targeted. As a general rule of thumb, you can always employ spy tools to narrow down the top creatives and see which ads are performing best in your area.
The Adspy allows you to see this type of promotion by searching for "sweepstakes" and toggling your country to the right settings.
Top Countries for Sweepstakes
While almost all consumers are familiar with sweepstakes, there are some regions where this type of traffic produces superior results. This includes:
Italy
France
Canada
United States
United Kingdom
The countries listed above can produce stellar results, but keep in mind that these audiences are harder to engage because they are used to online content. If you're still learning the ropes, some good GEOs to focus on are Chile, Colombia, and Malaysia, where locals are looking for opportunities to win expensive items rather than having to buy them.
Top Sweepstakes for Black Friday Available at Zeydoo
As you might know the Black Friday is coming and sweepstakes converts amazingly well during this period. We have prepared some of the top offers for Black Friday:
🇺🇸 USA 🇺🇸
ID: 4127 – Win a $500 Target Black Friday Gift Card
ID: 4128 – Test & Keep a $250 Victoria's Secret Black Friday Package
ID: 4129 – Win a $500 Best Buy Black Friday Gift Card
ID: 4130 – iPhone 13 Pro Black Friday
ID: 3991 – Win a walmart gift card black friday
ID: 3994 – Win iPhone 12 pro Black Friday
ID: 3997 – Win a cashapp Black Friday
🏴󠁧󠁢󠁥󠁮󠁧󠁿 Great Britain 🏴󠁧󠁢󠁥󠁮󠁧󠁿
ID: 4100 – Asda 500 Black Friday
ID: 4102 – Amazon 500 Black Friday
ID: 4133 – PS5 Black Friday
🇩🇪 Germany 🇩🇪
ID: 3820 – Amazon 1000 Black Friday
ID: 3821 – Amazon 500 Black Friday
ID: 3985 – IPhone13 Black Friday
ID: 4090 – iPhone 13 DE Black Friday
ID: 4091 – Supermarket DE Black Friday
🇮🇹 Italy 🇮🇹
ID: 4092 – iPhone 13 IT Black Friday
ID: 4093 – Supermarket IT Black Friday
ID: 4101 – Primark Black Friday IT/ES
🇫🇷 France 🇫🇷
ID: 4131 – iPhone 13 Black Friday New
ID: 4132 – H&M Black Friday FR/ES
ID: 3945 – Black Friday PS5 FR
Other GEOs
ID: 4105 – Gift Card 7/11 TH Black Friday
ID: 4014 – Black Friday CO EXCLUSIVE
ID: 3674 – Black Friday Amazon ES
ID: 3675 – Black Friday PS5 ES
ID: 4125 – iPhone 13 Black Friday v1
Want to Get Started? The Zeydoo Team Is Here to Help
At Zeydoo, our goal is to help the top advertisers out there partner with leading affiliates across all industries. If you're ready to start making money through sweepstakes, get in touch with us today and we'll be glad to help.
Ana Titova
a.titova@zeydoo.com
@catites
Most Popular
New deal for Rewardis: giving away a ticket to AW in Bangkok! 

Let's get straight to the point. We're going to AW in Bangkok on December 7-8 and we're giving away a COMPANY TICKET to anyone who will increase their traffic volume…

read more

Gear-Up: get the 7% of your profit increase for increasing traffic volume

Zeydoo is starting the new season with this Promo to help you boost your profit. No special effort needed, just increase your traffic volume and get the 7% of the…

read more

Driving traffic to finance offers: vertical overview + tips from media buyers

Finance vertical in media buying is one of the most stable branches with big volumes, high rates and the opportunity to get the ROI you expected every month. In Zeydoo…

read more