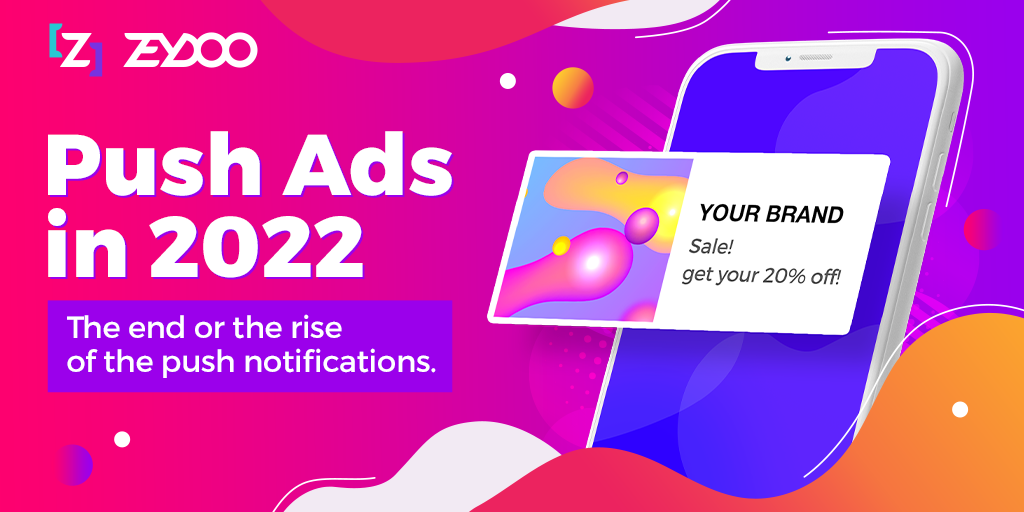 [Guide]The end or the rise of the push notifications?
Push notifications are superb ads that can help you connect with your audiences at a much deeper level. That said, this format is deceivingly simple and relatively easy to use, which has made it a favorite among all types of affiliates.
With the above in mind, knowing how to launch a push notification campaign is not easy. This type of ad is so simple that the smallest variables can drastically change the performance of an entire campaign, so affiliates need to understand all of the elements that influence the results generated through push notifications.
Zeydoo is an innovative CPA network that has worked closely with top push notification affiliates since our early days, so we understand everything there is to know about this ad format. In this article, we will go over everything that affiliates need to know about push notifications.
What Are Push Notifications?
Push notifications are ads that are displayed on consumer devices in the same format as other system alerts. This format can be divided into two major sub-categories, which are desktop push notifications and mobile push notifications. But, even though these two are different, the concept is the same in both instances.
How Do Push Ads Work?
When they appear on a desktop browser or mobile device, push notifications look like other forms of system alerts, like a message from a friend. Because they don't look or feel like conventional ads, users are much more likely to read push notifications and engage with the content within.
Remember, you simply can't show push notifications to any and every user. First, you (or a publisher) need to collect subscriptions from users, and then you'll be able to send notifications to these people whenever you deem best. So, you should work on developing a subscription hook or text that boosts the number of subscribers you generate.
2018 vs. 2021: How Does Performance Stack Up?
The technology that powers push notifications has been around since the early 1980s, but it wasn't until the mid-2010s that this technology truly exploded in terms of popularity.
Initially, this ad format was introduced by PropellerAds in 2018 and after that lots of other ad networks adopted this innovative ad format. It rapidly became a major format for affiliates since push results were drastically higher compared to other formats.
Because it's now a common ad format, many affiliates avoid working with push notifications altogether, but this can be a truly costly mistake. Push notifications still offer superior CTR, conversion rates, and ROI than most formats.
For example, in 2018 the average CTR in Dating campaigns was somewhere around 1.45%, in 2021 we see a slight drop – an average CTR for dating push campaigns is 1.14%. Although that doesn't mean that you can't get impressive results even now.
That said, affiliates now have to make adjustments to counter new challenges, for example:
New, strict browser policies that lower push volumes
Burnt-out audiences
Repetitive creatives
The Best Verticals for Push Notifications 2022
Push notifications are suitable for pretty much all verticals that don't require the use of complex graphics in the ad. That said, there are some industries that provide a higher revenue potential when combined with push ads.
These verticals are:
Dating (Push notifications mimic direct messages, therefore, have a higher conversion rate)
Sweepstakes (Again sweepstake push notifications look like a personal message about a person who won a fortune – that ensures impressive efficiency)
Gambling (According to our experience, a short message about the possibility to win or get a bonus can warm up the audience extreme effectively)
How to Promote Offers from the Top Verticals
All audiences are different, so you need to tailor your content based on the type of visitor you are trying to convert. This includes adjusting the language, images, and symbols used in the ad.
Let's take a look at an example push notification ad text for each of the top verticals we listed in the last section.
Dating
Title: Wanna talk to me, baby?
Body: I'm home alone now
Sweepstakes
Title: Winning a New iPhone Has Never Been Easier
Body: Just Answer a Few Questions for a Chance to Win!
Gambling
Title: Just bought my new TESLA!
Body: This casino really pays
Top Push Advertising Networks
The success of your push campaign will directly depend on the type of traffic you're getting, which means that your ad network will heavily influence your success levels.
Below, we'll go over the top push advertising networks that affiliates can work with today.
PropellerAds
PropellerAds is one of the biggest and most popular ad networks because it provides high-quality traffic and awesome features without costing a small fortune. The platform offers quality push traffic from a wide range of industries, making it ideal for affiliates of all levels and specialties.
What sets PropellerAds aside from the pack is the fact that it invests resources into developing powerful security features and delivers superb auto-optimization abilities, resulting in an efficient and safe environment for all its partners.
Adsterra
Adsterra has earned a reputation for being a great branding and awareness alternative. The platform provides a variety of payment structures including CPA, CPM, CPL, and more, plus affiliates can work with a variety of ad formats besides push notifications.
TrafficJunky
TrafficJunky specializes in delivering top-notch adult traffic in various formats, including push notifications. Known for its large set of GEOs and comprehensive statistics, TrafficJunky was established in 2008 and remains one of the top adult traffic providers out there even today.
Zeropark
While it's known for its pop and redirect ads, Zeropark is also one of the best push notification traffic providers that affiliates can work with. The platform specializes in visitors from a handful of industries including eCommerce, travel, finance, and video streaming, all of which are solid options for push campaigns.
DaoPush
Founded in 2019, DaoPush has taken the affiliate world by storm, quickly establishing itself as one of the best push networks available. It offers quick moderation, a variety of withdrawal methods, and a robust anti-fraud system that protects its ever-growing user base.
Ready to Get Started? Partner with Zeydoo to Get the Best Results
Push notifications are great ads that help you build a robust connection with your audience members, but remember that you need to partner with a reliable network to get the best results. To learn more about Zeydoo, contact us today and our team will be glad to help.
Most Popular
Finance Surveys: types of financial surveys and how to work with them 

Zeydoo provides a dozen of Finance offers in our Smart Surveys category, but you're still not sure what the difference is? Then this article is for you – here we'll…

read more

New deal for Rewardis: giving away a ticket to AW in Bangkok! 

Let's get straight to the point. We're going to AW in Bangkok on December 7-8 and we're giving away a COMPANY TICKET to anyone who will increase their traffic volume…

read more

Gear-Up: get the 7% of your profit increase for increasing traffic volume

Zeydoo is starting the new season with this Promo to help you boost your profit. No special effort needed, just increase your traffic volume and get the 7% of the…

read more