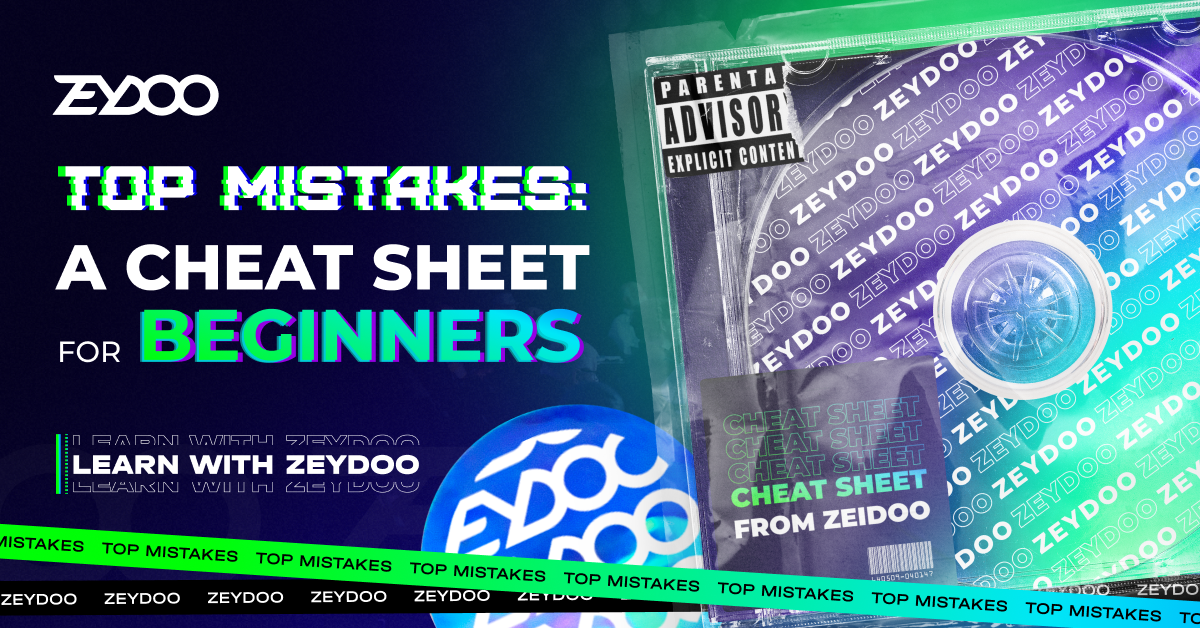 He that never climbed, never fell: a cheat sheet for publishers to save money
We encounter many mistakes made by publishers that could have been easily avoided had they known the tricks we're sharing today. And we're ready to present your personal cheat sheet to avoid some common mistakes made by both beginners and some even experienced media buyers.
P.S. Yes, we know it's talked about a lot, but … well, 'repetitio est mater studiorum' (repetition is the mother of all learning, if you forgot Latin). And don't forget to check out our blog to never miss insights of the week.
Chaotic tests
Most publishers that work with push/pop traffic think that if it's not Facebook, they don't need to do anything other than black/white-list optimization. And those working with FB launch traffic and thank the universe if the campaign lives another day.
What to do or some advice for newbies:
Note everything! Every launch, every single thing: creatives, links, tests, pre-landers, landing pages, accounts, bids, proxies, keys etc. That way you'll have a whole database of every step that you took and can then easily analyze which step messed up with the results and which brought more profit.
2.3.4…10. Have a spreadsheet to make it even more easier to follow. If you had the last 5 creatives with one and the same link and different subaccounts – then the problem is not with the link or the landing page. In 90% of cases the creatives are to blame. And now you're banned and don't even remember what texts were there – but thanks to you, you have them in your notes!
Then based on your previous experience, you take the working ideas for the bundle and don't have to search for them with closed eyes, but rather further test your theories. This is how publishers gather all the life hacks and tricks for working with this or that type of traffic/source that you won't see in other blogs. And this information is gold.
Never delete anything from the links. If it's there, it stays there. Ask your manager
Now let's look at a case from one of our publishers. The publisher didn't set up the link correctly and because of this didn't receive any traffic statistics. Here are statistics of the offer that the publisher was working with: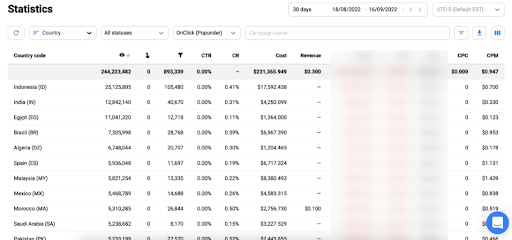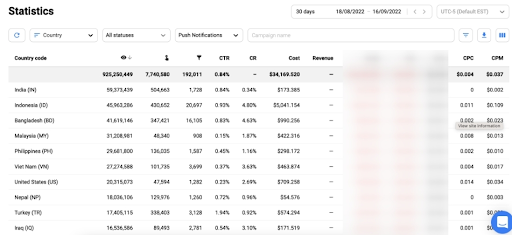 Where was the mistake?
— Do not delete anything from the link. It's better to consult the manager about what each sub id refers to.
— Have a bigger budget for testa. $10 is not much, but $10 for 34k traffic speaks volumes about the quality of traffic. And at the end we get very little stats for analytics and no comprehension about traffic's quality.
— Work closely with the manager. They will not only give you a link and help with the offer's integration. Being part of a team, they know the latest developments with offers, current trends, and are in general more informed and can help you with your traffic.
Never trying to cut the costs
It's not exactly a mistake, thanks to those who spend their own money, but it's still better to spend an extra $50 on tests. But with promo codes that save you around $50 you can get 100k views for free! And you can test 1-2 theories.
So, what's the deal with promo codes?
We do have a 10% bonus for any deposit in an advertising network ClickAdilla with a promo code ZEYDOO20. DAO.ad also gives +10% to your balance if you deposit more than $100. Don't forget to follow us on social media to keep up with new coupons and top offers.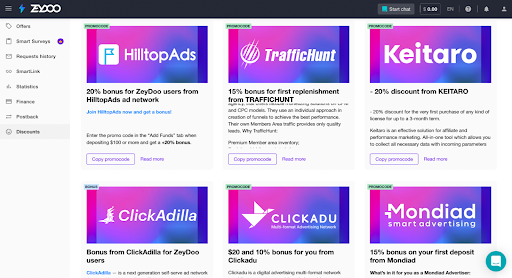 Besides that, you can easily find promo codes to use with anti-detect browsers, proxies, accounts etc. and get around 20% off. Be mindful with your spendings and the gods of traffic will bless you.
Here is a real case:
Expenses: $934,32
Revenue: $1845,20
Profit: $910,28
ROI: 59.55%
So, in theory, if a media buyer had spent $850, he/she would have still got $935. Just with one promo code, the end ROI would have been roughly 67%, not 59.55%. Nice, huh?
By the way, also monitor special deals in networks. For example, in Zeydoo with your traffic you can get +20% and more.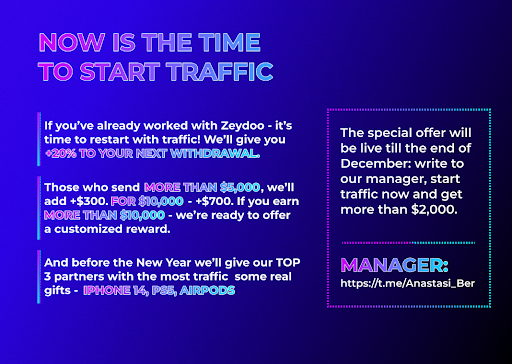 Choosing offers poorly
There are several sub points to this mistake:
First: trying to find a unique product with 100500% ROI. You can always check out in spy tools which offers are popular and convert well. The idea is good, but if you see the offer everywhere, the competition will also be big there.
Second: trying many offers and testing each to see which one sticks. Which only leads to having no offer that you've worked well on, no quality analytics. And missing out on really good offers.
Third: taking EPC, CR and other parameters as your guiding points. Well, we do always share them and they are not just for the fun of it. They show that it has traffic and you can work with the offer. But launching a campaign on a specific GEO taking into consideration only these parameters is no good. These are general figures for all types of traffic from all of our publishers. It doesn't mean that if the offer converts this well with push traffic in France, it will work just fine with native ads there. Even if we gave you statistics on a specific source of traffic – creatives, texts, approaches would still differ.

Then what should be guiding you? A manager. As we've mentioned above, a good manager can always give advice on creatives or approaches and what would likely convert. There is no other way around it.
P.S. Don't be that afraid to share this information with your manager, nobody will steal your creatives.
Never using additional monetization
In the case that we've talked about above, besides direct conversions on the landing page, the publisher earned additional $463 with additional monetization. That's some good money considering the expenses on the campaign. And we're rooting for saving money! 😀

How it works: if a user is redirected with your link, but doesn't perform the target action, you can send them to a different smartlink offer, where this user might turn into conversion and thus, money for you.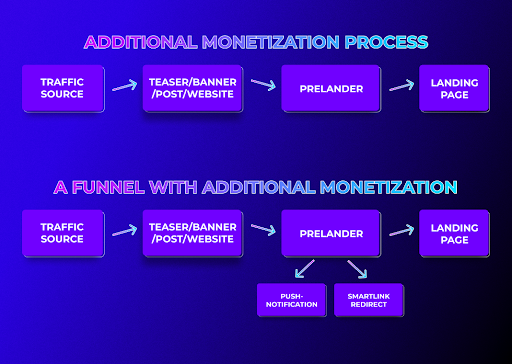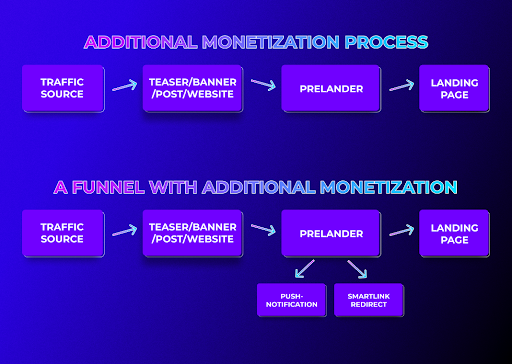 By the way, this media buyer from our example used two types of additional monetization:
Smart Tag from ProPush.me — a call for a push-notification subscription on a landing page. The users will subscribe to it and then receive notifications – and ProPush.me pays for these subscribers.
TrafficBack link — a user goes to the offer's page, doesn't see anything interesting there and doesn't subscribe to the push-notifications. Then clicks on 'Back' in the browser to leave the page. But instead gets redirected with a SmartLink to a more appealing offer, and with this getting the most out of not relevant traffic.
By the way, we're planning on releasing a new feature that will help you monetize your traffic even better – ZeyBooster – where you can get pre-landers with already set up additional monetization. You won't need to do anything. We'll announce it soon, just stay tuned!
And that's all. Come work with Zeydoo and follow us on social media – we'll be sharing more news there ✌️
V Instagram | LinkedIn | Facebook | Telegram Eng
Most Popular
New deal for Rewardis: giving away a ticket to AW in Bangkok! 

Let's get straight to the point. We're going to AW in Bangkok on December 7-8 and we're giving away a COMPANY TICKET to anyone who will increase their traffic volume…

read more

Gear-Up: get the 7% of your profit increase for increasing traffic volume

Zeydoo is starting the new season with this Promo to help you boost your profit. No special effort needed, just increase your traffic volume and get the 7% of the…

read more

Driving traffic to finance offers: vertical overview + tips from media buyers

Finance vertical in media buying is one of the most stable branches with big volumes, high rates and the opportunity to get the ROI you expected every month. In Zeydoo…

read more