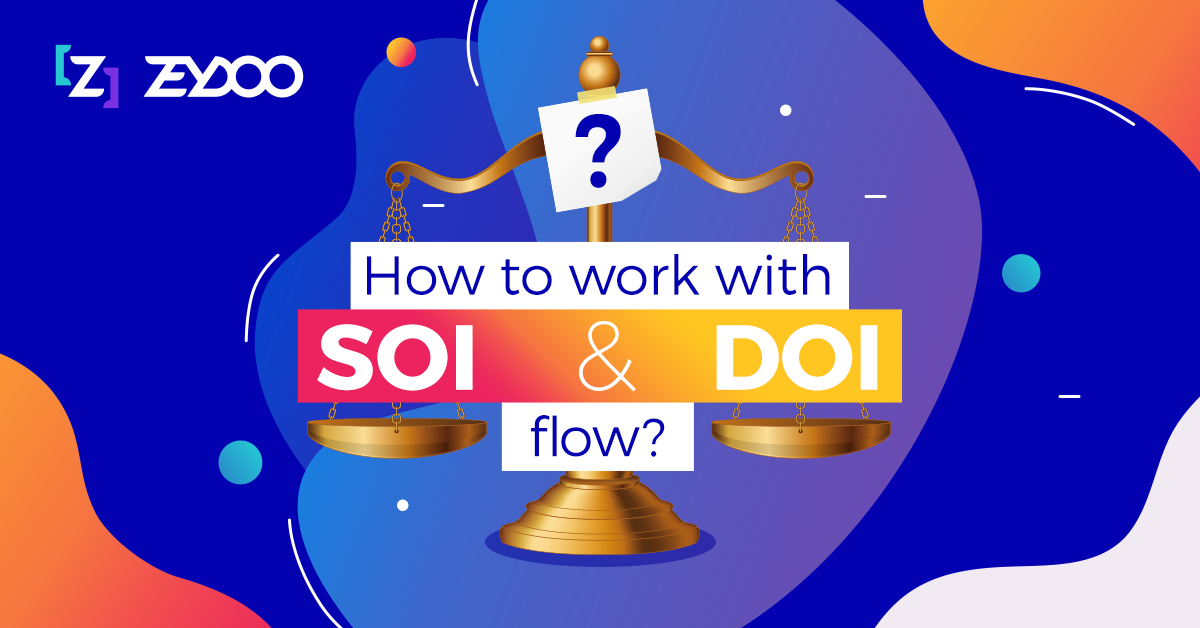 How Do I Run SOI and DOI Campaigns?
Choosing the best affiliate offer is like going to your favorite foreign food restaurant. Although not all the choices may appeal to everyone, there are usually a few select options that are a great call in almost any situation. Single-opt-in (SOI) and double-opt-in (DOI) offers great alternatives for the beginner as well as experienced affiliates for a variety of reasons. And, the most you know about these types of offers, the easier it will be to develop successful campaigns later on.
At Zeydoo, we've seen affiliates develop thousands of SOI and DOI campaigns, so we're pretty familiar with the steps you need to take to develop engaging ads.
We've checked in with Uliana Moreva, the marketing manager here at Zeydoo, and put together an article to help you understand how SOI and DOI offers work. Plus, we'll also cover the pros and cons of each and give you tips on building successful campaigns with these offers.
What Are SOI and DOI Offers?
Before going any further, let's take a closer look at the definition of SOI and DOI offers.
Single-opt-in offers are known for having the easiest conversion flow because all affiliates have to do is convince users to leave basic contact information. This includes name, email address, phone number, and similar data. Each person that submits his or her information counts as a conversion and this type of offer is usually developed by sweepstakes, dating, gaming, and finance advertisers.
As the name suggests, double-opt-in offers are similar to SOIs, but they require an additional step: confirmation. The most common types of confirmation come in the form of emails and text messages, although some offers may require a voice call. In most cases, users submit their contact information and are immediately confirmed through a text/email code or phone call. Once this process is completed, the conversion is registered.
Advantages and Setbacks of SOI and DOI Campaigns
SOI and DOI offers are similar in many ways, but require a completely different approach. They also have unique advantages and disadvantages that affect different affiliates in distinct ways, so you need to consider these before you start working with either offer type.
SOI

DOI

Best Verticals for These Types of Offers
"The best verticals for SOI and DOI offers are sweepstakes, iGaming, finance, crypto, and dating. That said, sweepstakes and dating are definitely among the most popular," says our marketing manager Uliana Moreva. "At Zeydoo we test all offers, plus these come from reliable partners anyways so you can check out which over verticals have this type of offer by checking out our collection."
Which Traffic Sources Should You Use for SOI and DOI Campaigns?
According to Moreva, "choosing traffic sources for SOI and DOI is similar to other offers because it depends on the verticals you're working with. For example, if you go for a dating offer, you should use push notifications. For finance and iGaming, you should try pop traffic. And, you can always turn to social traffic as well as Google Ads, but remember that both of these are pretty strict in terms of content, so there is no guarantee campaigns will pass the moderation."
Additionally, "email traffic usually shows impressive results. As for interstitial ads, they produce great results and have the scaling potential, but these are relatively new so you need more testing," says Moreva.
How to Choose the Best Creatives
One of the keys to success with SOI and DOI offers is warming your audience by using pre-landers. Likewise, having the right creatives will entice users to take the right steps and provide the information needed to report a conversion.
"The best creatives will depend largely on the industry being targeted in the offer. For example, financial SOI offers require aggressive and catchy creatives that use phrases like 'make money now' and focus heavily on generating profits quickly," says Moreva.
Additionally, Moreva also says that "dating offers are another great example of how the creatives change based on the industry because the content varies according to the demographics being targeted. For men, the best dating creatives revolve around meeting nice women closeby. For women? It's more along the lines of finding love and building a loving relationship, more traditional romantic content".
"We've noticed that a lot of affiliates are having success by using success stories in their creatives. Anecdotes about men and women who overcame their shyness or had a completely different life after joining a specific platform are performing extremely well with SOI and DOI."
When it comes to crypto offers, Moreva signaled that the strategy, for now, should be to convince people to make money through digital currencies while the window is still open. "For crypto, affiliates should remind people that there is still time to make money. Offers from iGaming advertisers require a more traditional approach, so creatives in this vertical should convince users that the platform is safe, it allows them to make fast money, and that the chances of winning are real. Again, all this is possible through the implementation of pre-landers that tell users what to expect on the offer page" says Moreva.
Top Offers from Zeydoo
1324 Surbox Sweep ES with Preland
Interested in learning more about the best offers and where to find them? Contact Zeydoo and our team will be glad to help!
Most Popular
New deal for Rewardis: giving away a ticket to AW in Bangkok! 

Let's get straight to the point. We're going to AW in Bangkok on December 7-8 and we're giving away a COMPANY TICKET to anyone who will increase their traffic volume…

read more

Gear-Up: get the 7% of your profit increase for increasing traffic volume

Zeydoo is starting the new season with this Promo to help you boost your profit. No special effort needed, just increase your traffic volume and get the 7% of the…

read more

Driving traffic to finance offers: vertical overview + tips from media buyers

Finance vertical in media buying is one of the most stable branches with big volumes, high rates and the opportunity to get the ROI you expected every month. In Zeydoo…

read more