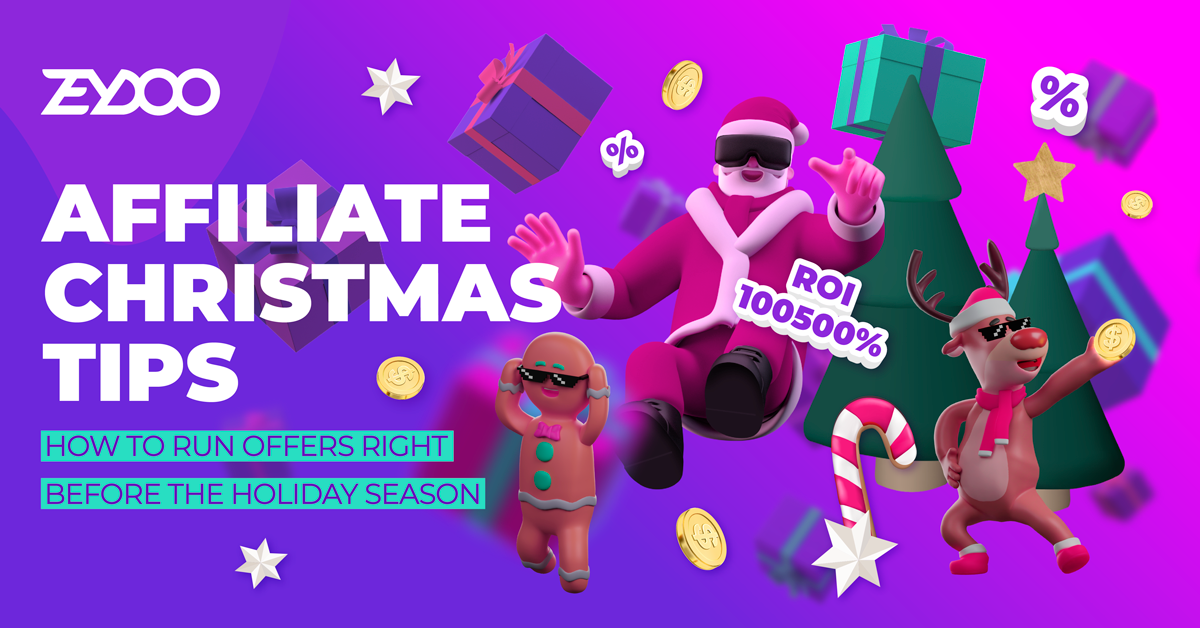 How to Prepare for the Holidays Season
It doesn't matter the culture and language, the last year of the calendar is a time for celebration around the world. There are dozens of different events and festivities that affiliates can take advantage of, but this doesn't necessarily mean that it's easy to set up successful campaigns.
There's a significant amount of competition, not to mention the fact that consumers are bombarded with ads as soon as they go online, so creative affiliates need to make the adjustment in order to get the best results.
At Zeydoo, we focus on helping affiliates find the best CPA offers exclusively from direct advertiser pool, so we are familiar with the steps that these marketers need to take to set up successful seasonal events. In this article, we will go over everything you need to know to prepare your campaigns for the holiday season.
Why Is the Holidays Season So Important?
Before going any further, let's discuss the concept of seasonality.
Simply put, seasonality is a phenomenon where consumers adjust their purchase and behavioral patterns periodically in a predictable manner.
Behavioral patterns due to seasonal changes follow a similar pattern every year, so affiliates that monitor and understand these tendencies can make a significant amount of money without having to invest more money.
Best Tactics for Big Sales Days
When building a holiday campaign, you need to put yourself in your audience members' shoes in order to develop the best approach.
All consumer groups are different, but there's one thing that most of them have in common during the holiday season: they are looking for gifts for their loved ones. The problem is that new products and brands flood the market every year, so finding the best gifts for every individual can be challenging at best.
Affiliates can take advantage of this and prepare a strategy where they help their audience members find the best alternatives while generating commissions from leading advertisers.
Regular Promotions vs. Seasonal Events
While it's true that consumers buy a small number of gifts for themselves, it's safe to assume that most users want to purchase goods for other people. This is one of the biggest differences between holiday sales and other types of promotions.
Rather than encouraging users by telling them about the features of the products, affiliates should take a different approach and show consumers how the goods will improve the recipient's life.
Best Practices for Developing a Holidays Season Campaigns
Now that we understand seasonality and holiday campaigns a bit more, let's go over some best practices that can exponentially boost the performance of your ads.
Focus on Popular Brands and Products
There are many up-and-coming products and brands that have a lot of potential, but this doesn't guarantee your ads will perform well. So, to increase your chances of success, you should focus on promoting popular products and brands that already have a great reputation with consumers.
Develop a Powerful Landing Page or Pre-Lander
If the offer you're working with doesn't already provide a landing page, make sure to develop an engaging and aesthetically-sound lander. If you get a landing page in the offer, you should consider creating a pre-lander that tells users what to expect on the offer landing page, assuming that the advertiser allows this of course.
Use Multi-Channel Strategies
The average user accesses several pages, video streaming platforms, and social media networks on a daily basis. So, you need to create a multi-channel strategy designed to engage users at crucial points, regardless of the type of content they are consuming.
Look at Historic Data to Hit the Ground Running
If this is not your first holiday season as an affiliate, you should look at past campaign performance and make adjustments based on the results you got from your original ads.
Experiment with New Verticals
Just because you've specialized in one or two verticals doesn't mean that you can't learn a new one. The holiday season is perfect for new verticals because consumers are willing to buy products for other people that they wouldn't normally buy for themselves.
For example, the holiday season is the perfect time to promote childrens' toys to audience members that don't have kids.
Develop Unique Content and Give Gift Recommendations
Content was, is, and will always be king in affiliate marketing. To get the best results, affiliates have to develop unique content that engages users and delivers value.
You can take this tip to the next level by focusing on content like gift recommendation articles that immediately solve one of the audience's biggest seasonal needs.
Optimizing Creatives and Incentives
The creatives used in your campaign have a direct impact on the way your target audience interacts with your content. Same thing with the incentives that you use to encourage visitors to become conversions.
Your creatives should feature the name of the promotion (for example, Boxing Day sale) and instill a sense of urgency by stating the duration of the sale. As for the incentives, giving users a discount or free gift can exponentially increase conversion rates. So, don't be afraid to talk to your network and explore the possibility of offering a similar promotion.
Ready to Launch a Holiday Affiliate Campaign? Zeydoo Is Here to Help
Developing holiday campaigns takes a significant amount of planning and organizing, but running the right ads during these periods can exponentially boost your earnings. We hope that the tips above give you everything you need to set up your campaign and start generating revenues right away.
Interested in finding exclusive CPA offers from leading advertisers? Contact Zeydoo and our team will be glad to help.
Top offers for Christmas by Zeydoo
Most Popular
New deal for Rewardis: giving away a ticket to AW in Bangkok! 

Let's get straight to the point. We're going to AW in Bangkok on December 7-8 and we're giving away a COMPANY TICKET to anyone who will increase their traffic volume…

read more

Gear-Up: get the 7% of your profit increase for increasing traffic volume

Zeydoo is starting the new season with this Promo to help you boost your profit. No special effort needed, just increase your traffic volume and get the 7% of the…

read more

Driving traffic to finance offers: vertical overview + tips from media buyers

Finance vertical in media buying is one of the most stable branches with big volumes, high rates and the opportunity to get the ROI you expected every month. In Zeydoo…

read more