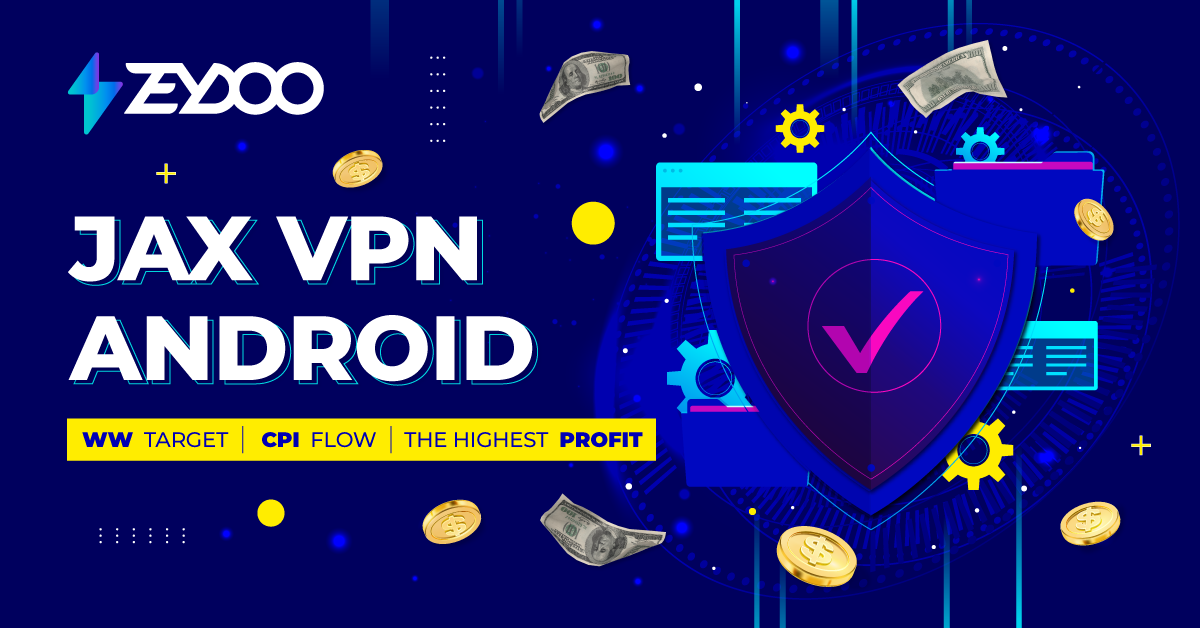 Jax VPN Android Offer: Easy Conversions and Large Profits
Hi guys!
Were you looking for some very profitable offer from ZeyDoo with an easy flow and conversions? We have an offer that works for all types of Popunder traffic: meet the Jax VPN Android by AppLab!
Why are we sure you'll like it? Because it has pleeenty of perks! Let's look at them in detail — right now.
6366 | Jax VPN Android NEW Prelanders: Offer Details
To start, what's JAX VPN, and what are the offer conditions?
JAX VPN is an easy-to-install, free, and convenient VPN app, popular worldwide.
And here is what the offer looks like: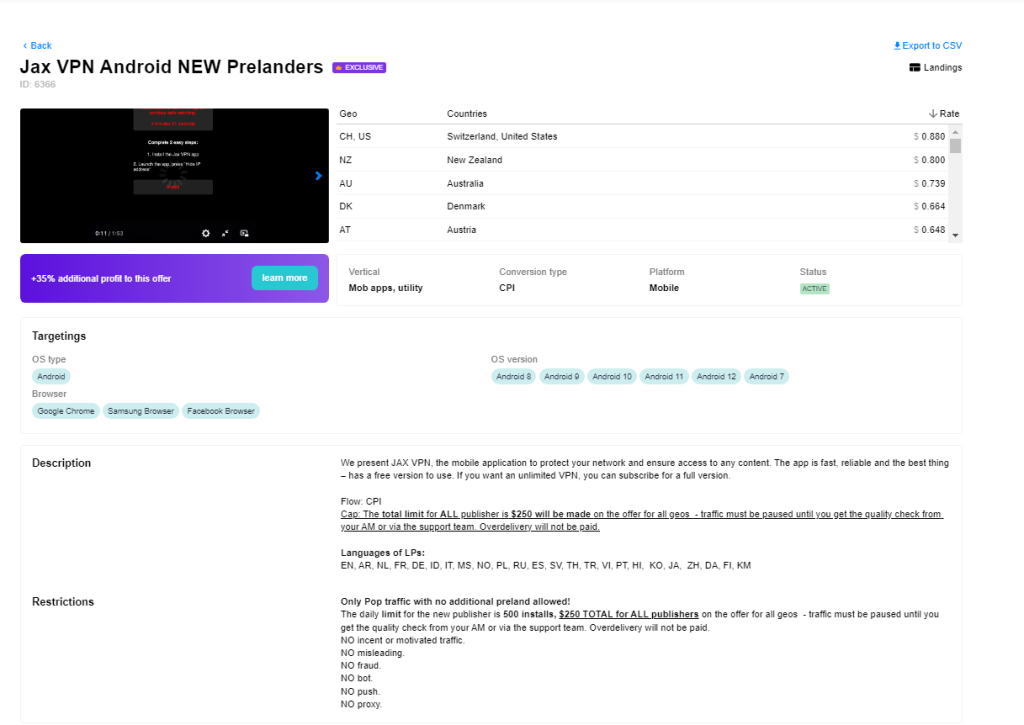 Traffic: Popunder
Average CR: 0,8%
Limit: Total limit for a new partner is $250. After we do the quality check, the offer won't have a limit anymore
Flow: CPI, you are paid per installed and opened app
GEOs: WW
Here is the offer link: 6366 | Jax VPN Android NEW Prelanders
Register and launch traffic. The offer converts right now. Manager will help you get started and get your first profit!
Offer Features
Jax VPN offer allows you to earn much and do it quickly and easily. And this is why:
The offer has one of the easiest CPI flows: you are paid each time when the app is installed and opened. No purchases or paid subscriptions!
We check the traffic quality very quickly. So, your offer can become unlimited very soon! After you reach the limit, we check your traffic within a single working day or even quicker. Sometimes, we can initiate a quality check even from $200 — if you have constant stable traffic volumes.
Have stable large spending on the Jax VPN Android offer? You will work with a personal manager that we'll assign to you, especially for this offer. Usually, we provide you with a manager if you have regular daily spending of approximately $100
We provide you with ready pre-landers: you don't need to spend hours on inventing and testing effective creatives. The pre-landers we give with the offer are guaranteed to work. Here is one of them:
What is more, we have these pre-landers in 24 languages: EN, AR, NL, FR, DE, ID, IT, MS, NO, PL, RU, ES, SV, TH, TR, VI, PT, HI, KO, JA, ZH, DA, FI, KM. As the offer is almost WW, such coverage allows you to scale campaigns and get more conversions almost endlessly!
We have a similar offer with Push Traffic! With almost the same terms, it gives you more space for imagination as it requires your own creatives
I Got It! Where Can I Find More Offers Like That?
Such exclusive offers are only available in ZeyDoo! Affiliate marketers love working with us because:
We have a great choice of exclusive offers that convert
Our best offers come from the largest direct advertisers
You always have access to clear and convenient stats management
Our managers are always willing to help you find the most relevant offer
We have 24/7 customer service
Join ZeyDoo today — and get access to the top-quality converting offers!
Most Popular
New deal for Rewardis: giving away a ticket to AW in Bangkok! 

Let's get straight to the point. We're going to AW in Bangkok on December 7-8 and we're giving away a COMPANY TICKET to anyone who will increase their traffic volume…

read more

Gear-Up: get the 7% of your profit increase for increasing traffic volume

Zeydoo is starting the new season with this Promo to help you boost your profit. No special effort needed, just increase your traffic volume and get the 7% of the…

read more

Driving traffic to finance offers: vertical overview + tips from media buyers

Finance vertical in media buying is one of the most stable branches with big volumes, high rates and the opportunity to get the ROI you expected every month. In Zeydoo…

read more