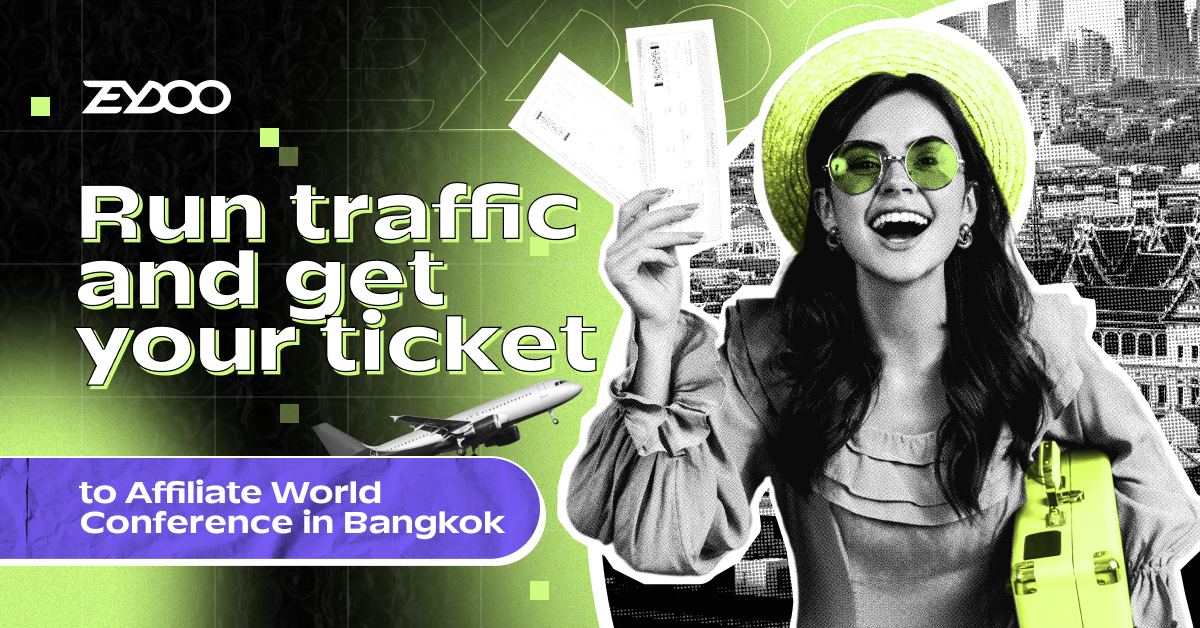 New deal for Rewardis: giving away a ticket to AW in Bangkok! 
Let's get straight to the point. We're going to AW in Bangkok on December 7-8 and we're giving away a COMPANY TICKET to anyone who will increase their traffic volume to Rewardis Multigeo Samsung A53 (Android). It's easy: you run more traffic = you get the ticket!
The deal will be live from 25.09.23 till 25.11.23!
Why even newbies can win: the terms and conditions
Even if you have never worked with Rewardis, you still get your chance. Let's see how it works:
Run traffic to 10118 | Rewardis Multigeo Samsung A53 (Android) from 25.09.23 till 25.11.23.
The affiliate with the highest traffic increase in $$$ gets the ticket.
Done, now pack your bags and see you at AW in Bangkok!
We will evaluate your level of profit based on the period from 25.08.2023 to 24.09.2023.
Partners that have never tried the product before and those who are already running traffic to it are almost in the same position. We do not take into account the current volumes from affiliates, but rather look at the increase in profit compared to previous periods.
What is Rewardis and why it converts well
10118 | Rewardis Multigeo Samsung A53 (Android) is an exclusive Sweepstakes offer from Zeydoo available in Latin America, Africa, the Philippines, Indonesia and India.
A user completes a survey and gets a chance to win Samsung Galaxy A53. To take part in the giveaway they need to leave their name and email at the end of the survey.
Flow: SOI registration
Available languages: EN, ES, PT
Top sources: push, pop
Test cap: $150
Cap (after quality check): $150 for each GEO, but we can consider unlimited caps
The offer works with our Total Hybrid payout model: after reaching the daily cap, your traffic will automatically be switched to RevShare. This way you won't need to worry about getting over the cap or stopping traffic.
Affiliates can access ready-made pre-landers that have already been tested and showed great results.
The product showed great results during tests in Brazil which is why we started adding new GEOs with relatively cheap and converting traffic. We have also increased the rates in Brazil thanks to some optimizations carried out by our internal development team.
You can learn more about the current volumes driven to the offer looking at this stats with the number of conversions that are brought by our partners (and how they are increasing every month.
Follow our Telegram so that you never miss an update and are always in the loop on the new stuff. Register in Zeydoo, start traffic today and get your profit this month!
Most Popular
Finance Surveys: types of financial surveys and how to work with them 

Zeydoo provides a dozen of Finance offers in our Smart Surveys category, but you're still not sure what the difference is? Then this article is for you – here we'll…

read more

New deal for Rewardis: giving away a ticket to AW in Bangkok! 

Let's get straight to the point. We're going to AW in Bangkok on December 7-8 and we're giving away a COMPANY TICKET to anyone who will increase their traffic volume…

read more

Gear-Up: get the 7% of your profit increase for increasing traffic volume

Zeydoo is starting the new season with this Promo to help you boost your profit. No special effort needed, just increase your traffic volume and get the 7% of the…

read more