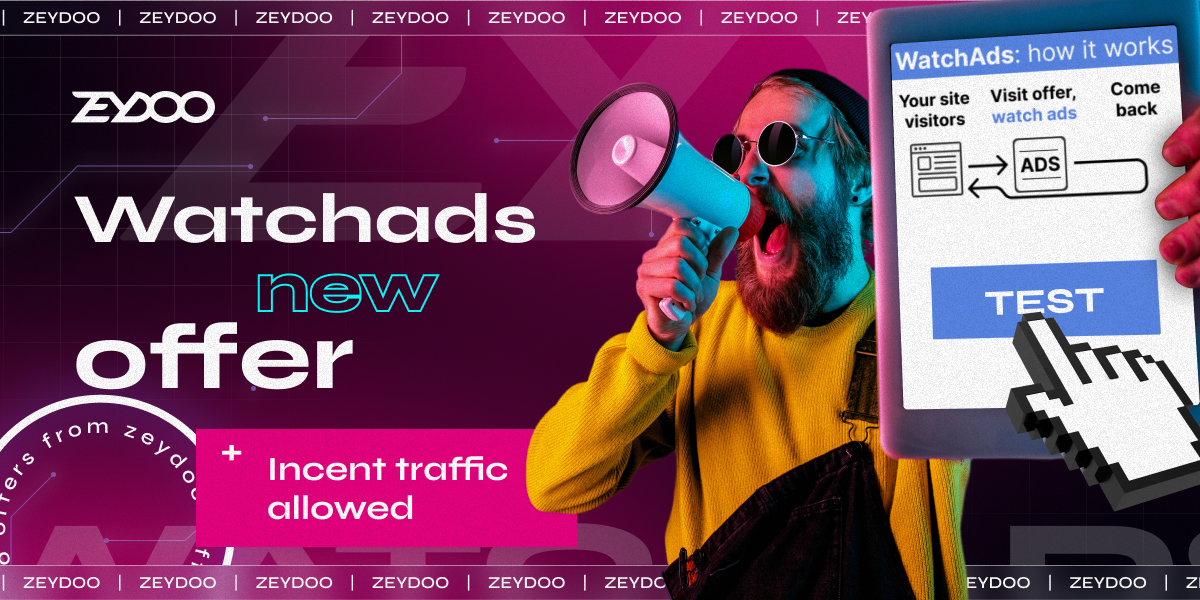 New offer WatchAds: earn with people watching ads
Yes, you've heard it right. Now you can start earning money when a user watches ads on their smartphones or laptops. No complicated funnels, apps or other schemes. Just start traffic and get your profit with a white-hat easily scalable offer. You can even run incent traffic!
Watchads is a new exclusive product from Zeydoo. An offer with a worldwide coverage where a user follows the link and watches 3 advertisements. After that the pixel is fired and the conversion appears. This is the easiest funnel ever and a brand new type of offers for the audience which guarantees a high CR.
We have two commission models available here:
You can run any type of traffic, including incent, so there should be no problem with the quality! The only restriction there is – bot and fraud traffic. All other types are acceptable and will get you your profit. The test cap for each partner is $75; then our team optimizes the offer for your type of traffic and gives a bigger cap.
Write the promo code "WATCHYOUR20" to your manager till the end of May 2023 and get +$20 to the payment if you have more than $150 in revenue. 
Zeydoo is constantly working so that you have the best rates and exclusive products. May the profit be with you!
Most Popular
New deal for Rewardis: giving away a ticket to AW in Bangkok! 

Let's get straight to the point. We're going to AW in Bangkok on December 7-8 and we're giving away a COMPANY TICKET to anyone who will increase their traffic volume…

read more

Gear-Up: get the 7% of your profit increase for increasing traffic volume

Zeydoo is starting the new season with this Promo to help you boost your profit. No special effort needed, just increase your traffic volume and get the 7% of the…

read more

Driving traffic to finance offers: vertical overview + tips from media buyers

Finance vertical in media buying is one of the most stable branches with big volumes, high rates and the opportunity to get the ROI you expected every month. In Zeydoo…

read more