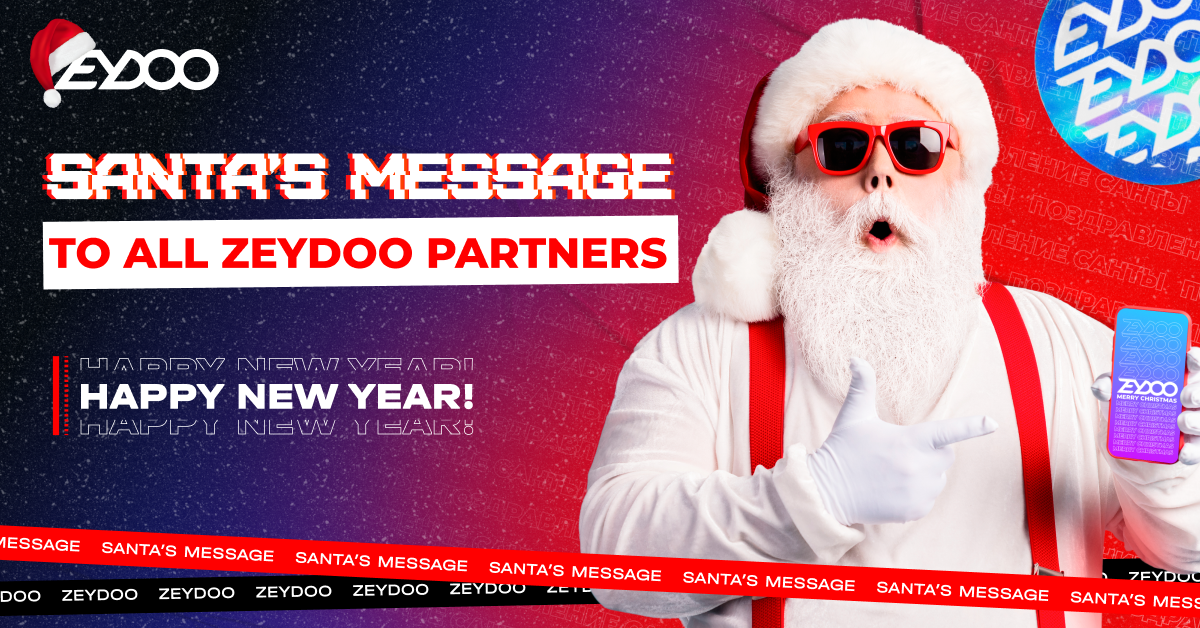 Santa wants to greet you in person. Follow this link!
🥂 Holidays are just around the corner!
And as 2022 is drawing on a close, it's time we celebrated this year and said thank you to everyone important in our life. For us in Zeydoo it's you that we want to celebrate and thank from the depths of our heart. We couldn't have done it without you!
This year has been as fruitful as it can be:
🔸 More than 1,700 partners have joined our team this year
🔸 We've added new verticals: Leadgen, Dating and Sweepstakes
🔸 We've attended 25 conferences to meet you in person
Together we generated 350 million conversions! Isn't that awesome?
We wish you all the best in 2023: more traffic, better CR, higher ROI and cooler rates. More important: good, well converting offers that you can always find in Zeydoo.
And in the true holiday spirit, we have a special treat for you. Santa is waiting to greet you in person!
P.S: Santa also doesn't mind sending your greetings to all your family and friends personally. Follow this link above for more details 🌲
Sincerely yours,
Zeydoo team.
* Video was created with the help of https://neiro.ai/ – Digital Clones That Drive Engagement.
Most Popular
Finance Surveys: types of financial surveys and how to work with them 

Zeydoo provides a dozen of Finance offers in our Smart Surveys category, but you're still not sure what the difference is? Then this article is for you – here we'll…

read more

New deal for Rewardis: giving away a ticket to AW in Bangkok! 

Let's get straight to the point. We're going to AW in Bangkok on December 7-8 and we're giving away a COMPANY TICKET to anyone who will increase their traffic volume…

read more

Gear-Up: get the 7% of your profit increase for increasing traffic volume

Zeydoo is starting the new season with this Promo to help you boost your profit. No special effort needed, just increase your traffic volume and get the 7% of the…

read more