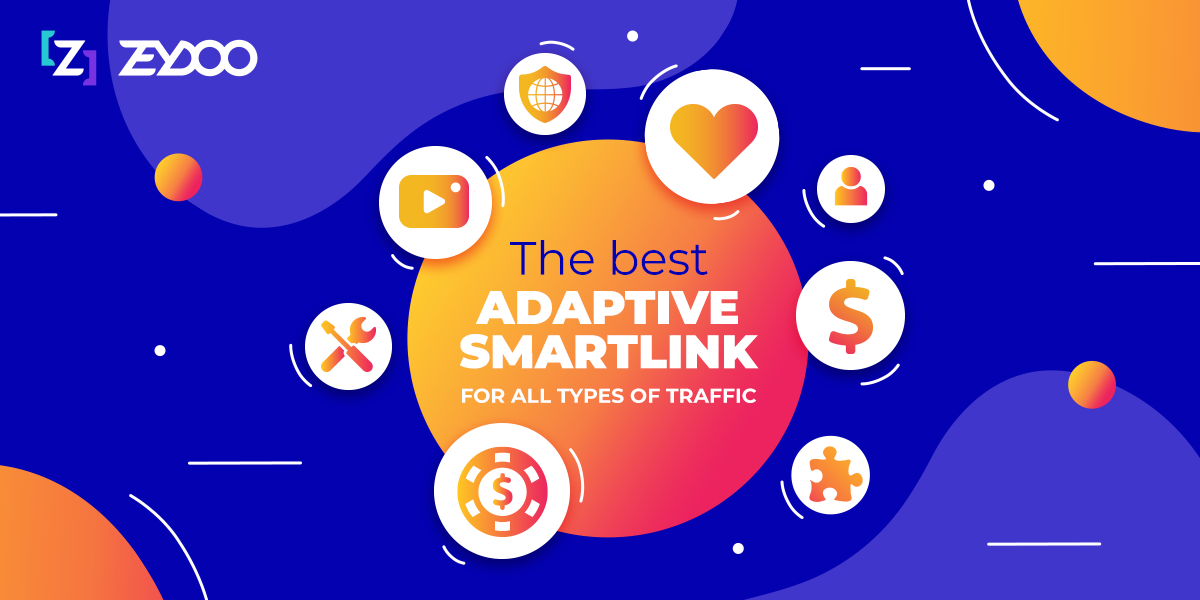 Smartlink Feature: Make the Best-Converting Offers All Yours
How to make the most of your campaign? Well, promoting the right offers, of course! And we are here to assist.
Zeydoo has something really special for you – a new super-advanced and highly-technological feature Smartlink. Are you ready to boost your performance? Then jump on board!
It takes a lot of time to make tests, an optimisation for a campaigns and etc, so we decided to save your time and increase your money with help of our new Smartlink!
Why our smartlink is so special?
Metrics: Smartlink allows you to ensure your rotation gets the best campaigns based on numerous metrics, including CR and EPC;
Fast results: 2-3 days with at least 50K impressions on a chosen slice and the algorithm is boosted in the most efficient way.
Optimisation: Leave all fuss and trouble behind – Smartlink algorithm works to make your performance better and better.
Wide feed: We have one of the biggest feeds on the market with the top-converting offers and it includes CPA and CPM offers.
So, what is Smartlink?
Smartlink is a feature based on a fancy algorithm that helps you get the most out of your ads. Smartlink unites numerous offers all in one link. Once the link is clicked, the algorithm splits traffic around offers with the highest EPC. It processes thousands of campaigns per day, considering your chosen GEO, platform, and other variables. Two-three consecutive days with at least 50k impressions daily on chosen slices (geo-platform) boost the algorithm in the best way – so start the traffic flow, and watch it bring you the best results shortly.
Activate it in your Zeydoo account and get access to the brightest feed of mainstream offers – appealing, fresh, and converting.
Smartlink works for:
Pop-Under
Push
Redirect
In-app
Traffic-Back
And more! Try now and grab the best offers for striking results!
Which verticals are included?
Believe it or not, but we have all imaginable verticals available. Take a look:
Software and Extensions
Content on Demand
Mobile Content
Utilities
Sweepstakes (SOI, CCsub)
Finance
Dating
Games
Smartlink contains everything! And the link can be customized regarding the verticals that work flawlessly for you.
Note: Please mind that we don't work with Adult and Proxy or iFrame traffic.
Which top GEOs and platforms are included?
Here are just a few best-performing slices (Platform + GEO) try! All Tiers and devices are at your disposal:
Android
BR (Brazil), IN (India), VN (Vietnam), RU (Russia), NG (Nigeria), MX (Mexico), FR (France), CZ (Czechia), AU (Australia), US (United States);
iOS
US (United States), GB (United Kingdom), DE (Germany), EG (Egypt), IN (India), IL (Israel), CO (Colombia), JP (Japan), SG (Singapore), CL (Chile);
Windows
US (United States), DE (Germany), FR (France), AT (Australia), JP (Japan), PE (Peru), PL (Poland), DK (Denmark);
Mac OS
CA (Canada), US (United States), VN (Vietnam), IT (Italy), DE (German), FR (France), ES (Spain), ID (Indonesia), BR (Brazil), JP (Japan), UA (Ukraine), GB (United Kingdom).
And many more! Whatever slice you are hunting, all of them are yours with Smartlink!
Ready to start?
So, once you enter your Zeydoo account, just head to the Offers section and take a look at the left: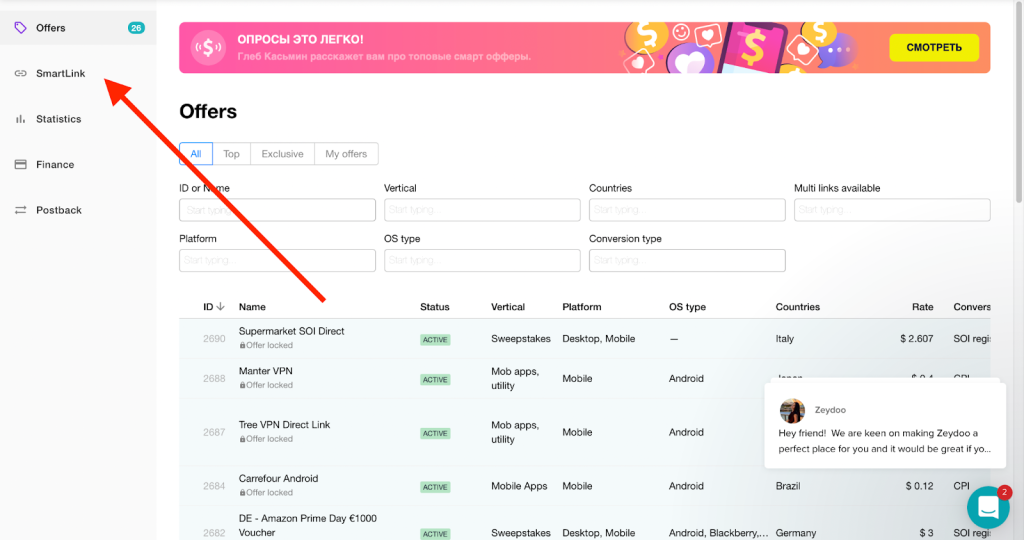 See? Here is Smartlink! Click it and apply this way: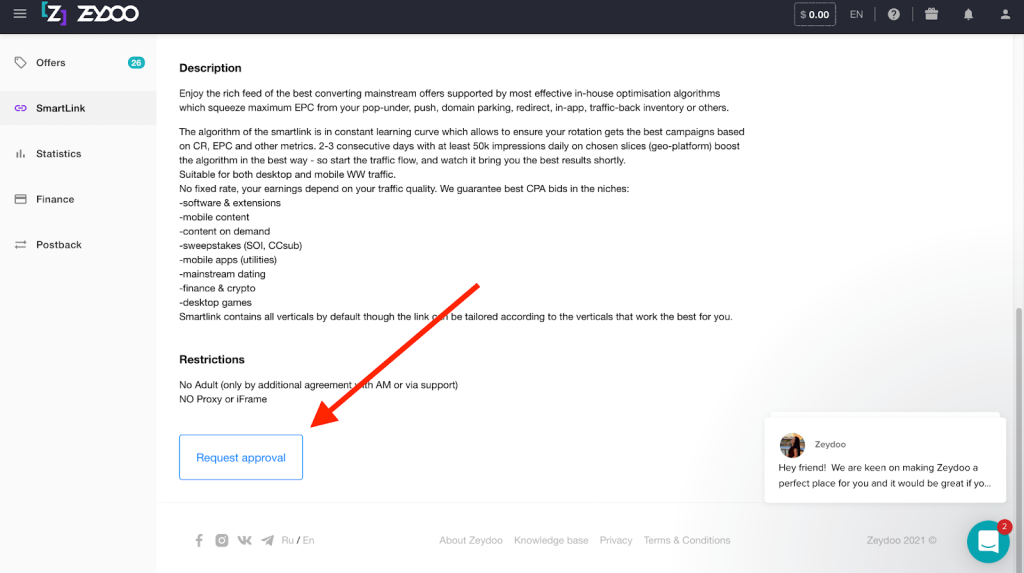 Push the Request Approval button, wait for a while, and enjoy the best performance imaginable. Wait no longer – try Smartlink right now!
Most Popular
New deal for Rewardis: giving away a ticket to AW in Bangkok! 

Let's get straight to the point. We're going to AW in Bangkok on December 7-8 and we're giving away a COMPANY TICKET to anyone who will increase their traffic volume…

read more

Gear-Up: get the 7% of your profit increase for increasing traffic volume

Zeydoo is starting the new season with this Promo to help you boost your profit. No special effort needed, just increase your traffic volume and get the 7% of the…

read more

Driving traffic to finance offers: vertical overview + tips from media buyers

Finance vertical in media buying is one of the most stable branches with big volumes, high rates and the opportunity to get the ROI you expected every month. In Zeydoo…

read more