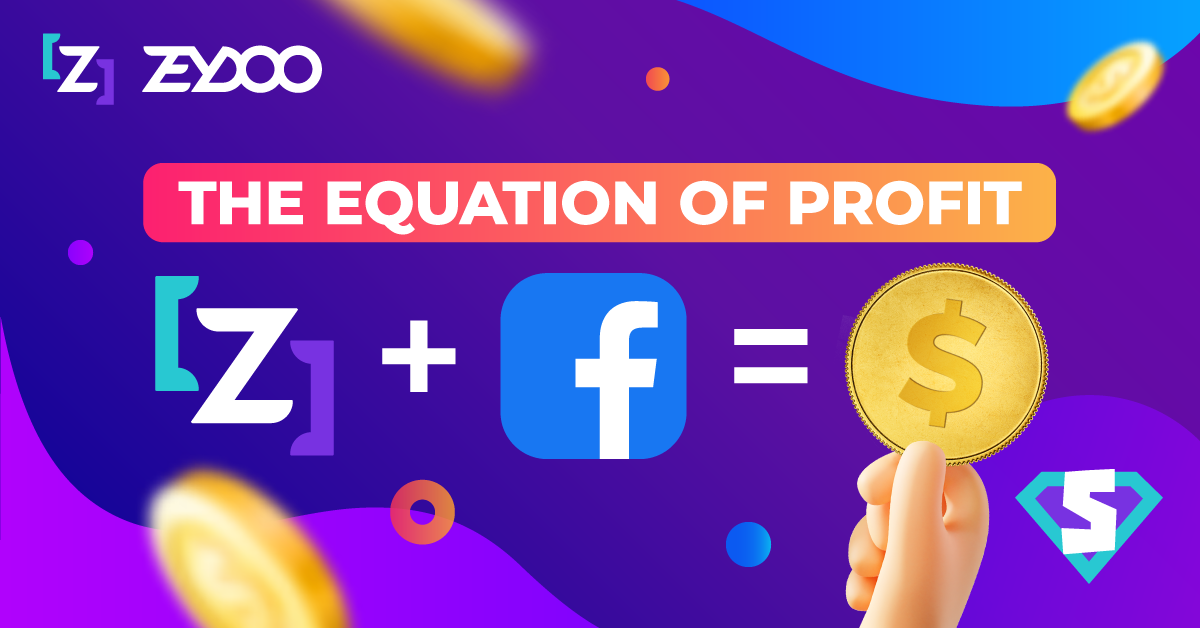 The equation of profit
Hi, guys!
Today, we are going to talk about Facebook campaigns and Zeydoo offers promotions. As you may know, Facebook is pretty strict about ads – there is always a risk of getting banned. How to avoid troubles and make your campaigns shiny? Let's discuss.
Your Account
It's crucial to have a "real" account, the one that belongs to you or any other person. The profile should be active and natural – your bidding position and prices depend on this a lot. If you don't have a suitable account at hand, buying one is an option. Or else – you can save your money and ask your friend to lend you one.
Tip: Using your friend's account, make sure to turn the two-factor authentication on. In case both of you will be using the account from different locations at the same time, Facebook will perceive it as suspicious activity. Authentication will help you avoid the account lock. Thus, such situations rarely happen when you use bought accounts.
So, now you have an account. Here is what to do next
The Business Manager status. Choose the country and hour zone the same as in your profile data. To avoid additional commissions for currency conversion, pick dollars.
Create a new bank card. The best strategy is to have a separate card for each of your Business Manager accounts. Don't bind more than one account to a single card – you risk losing them all in case of ban.
Fan Page
Create a Fan Page to represent your goods or services. Make sure to use the right language – mind the GEO you are targeting.
Add a unique avatar and cover. The page should look like you're promoting something dear to your heart (well, it's actually a Fan Page!). Use the logo constructor to speed up the process.
Check some local magazines and blogs on the corresponding themes. You may copy the article and post it to your page. Don't forget to add a unique image – if you don't have any, just take the one from the article and apply a photo filter to it.
Tip: The best article format is "Top 10 simple recommendations" or something like that. Publish the post and wait for a couple of days. Then you can make another one, following the same strategy.
Offer Choice
Work with Zeydoo
Now you should move to Zeydoo and choose the offer.
Registration won't take too much time – all you need is to fill out a couple of simple forms. You will easily do that without any guidance, but there are some important nuances to highlight:
If you want to work with a personal manager, make sure to provide complete information about yourself. Such points as "Experience" and "Monthly Revenue" are crucial here.
It takes 24 hours to moderate your account;
Make sure that your contact information is valid – so that company representatives can get in touch with you.
Offers
Zeydoo works with numerous verticals, so you will find a huge amount of diverse offers here. Which one should you choose? Here are the strongest verticals to keep in mind:
Sweepstakes
Finance
Utilities
VPN
Mobile subscriptions
Smart surveys
IMPORTANT! When choosing the offer, mind that you may need higher rates than the default ones. This is especially the case when you work with Facebook. You should contact the manager, mention the source, and get some help. 
We recommend Sweepstakes for a start. Just make sure to avoid iPhone and Samsung giveaways – such offers ran out of steam a long time ago and they don't really work on Facebook. Try shopping cards instead – they convert actively, especially if you work with Tier 1 GEOs.
There are a lot of offers from which Facebook didn't "tired" yet. We have prepared a couple of examples:

▶️ Win DeLonghi Coffee Machine
▶️ Ikea Voucher

Once you have chosen the offer, you need to request approval. The application response time is 24 hours.
Settings
Currently, Zeydoo's API is under development, but we have S2S instead.
You need to generate the track link – the one that will transfer your leads. Here is how:
Click "Start working with this offer"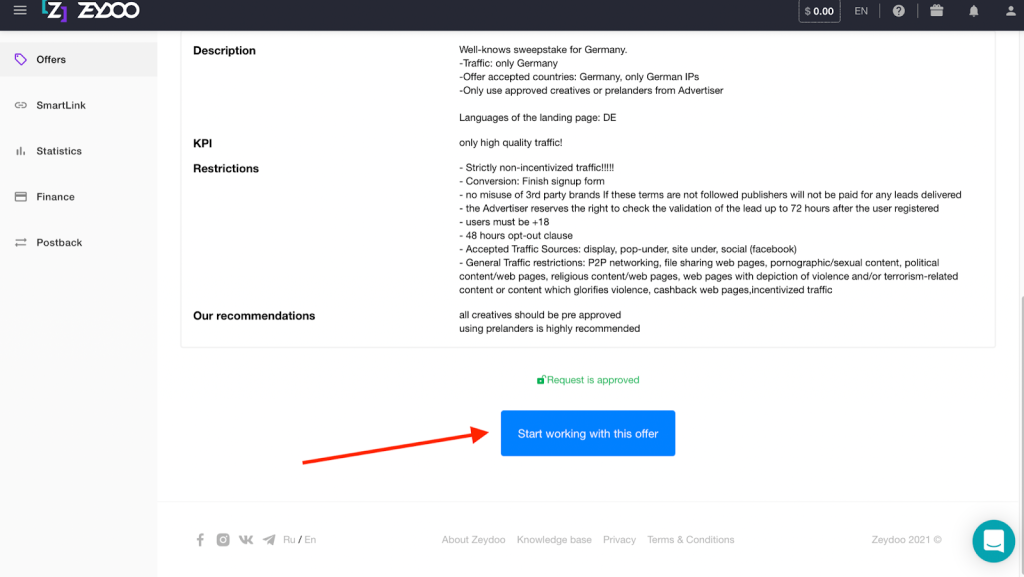 Generate the link:
You will see the interface with adjustable parameters, including postback and more. If you have no idea how to adjust them, read this simple and detailed guide.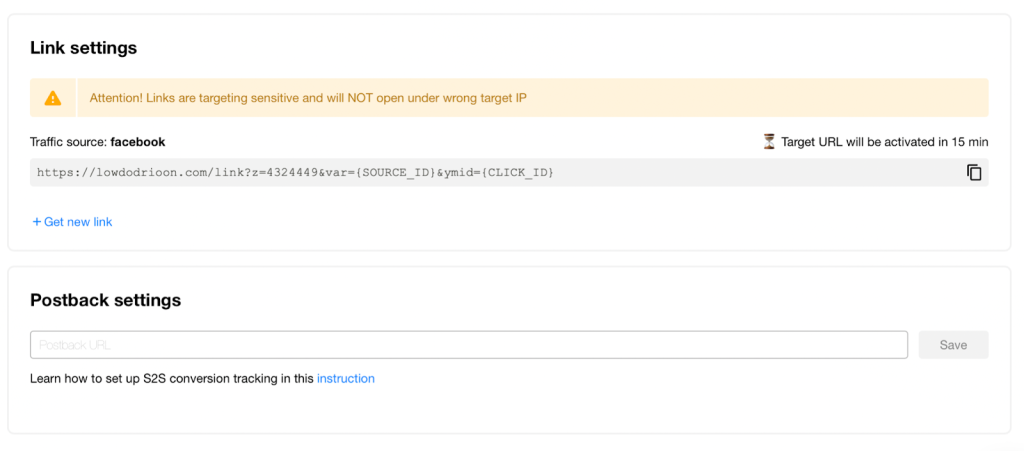 Now you have the link! So let's move to the main part – campaign launch.
Launch
Campaign
Create a new campaign, add the name (this might be the name of your product) and choose the conversion type.
Adset
Choose the required country and gender. As for the age, you may pick 18-65 and Facebook will find interested people.
Choose mobile devices (you can also try desktop, but it cannot boast of the same efficiency level);
You can do not choose the placement, Facebook will help you with this
Your budget depends from the GEO because of the price for the click, you can use 25/50/250.
Additional settings – set 1 click for conversions or 1 day (the product niche is associated with rapid decision-making).
Advertisement
Choose your Fan Page;
Pick the One Video format;
Upload the video and add an appealing cover;
Add a laconic text to make sure it is displayed fully on the page (without those annoying "more…" things) – 4 lines for Facebook and 3 lines for Instagram will be enough;
For a title, you may add the name of the product. It's okay to write anything else – just make it eye-catching.
And we launch it!
We suggest that you shouldn't change anything in the active Adset – this might unsettle Facebook algorithms and affect your ads negatively. If you need to readjust something, it makes sense to duplicate the current Adset, edit it, and then launch.
Right now the scheme of the tests is 1-1-1, you can test three creatives for one Adset . Track their performance for a while and remove the less converting ones. Do not panic if you will get the ban, change the variables and try different ways.
After you spend about $1000, your account can be considered as a warmed-up one: the rates improve, Adsets number grows up to 4-6 per day, and ban resistance becomes stronger.
Testing tactics:
Prepare money for tests, not less than 200-300$ and do not afraid to go in minus;
First of all, mind the budget. Your CTR and CPM are great for additional analysis, but they are not central aspects to focus on;
Release campaign in 00:00 to come in the auction correctly;
In case you want to reach 100% ROI, payouts for your applications should be multiplied by your medium approve and divided for 2;
If you cannot achieve the desired price, make sure to analyze more criteria;
If you realize that the campaign doesn't work well – await no gifts from chance. Instead, you should optimize and re-do it. No worries – most campaigns don't always work at one dash.
Basic CTR:
Facebook – 4% and more
Instagram – 3% and more
There are exceptions
Bouncing CPM
There are two potential reasons for CPM to bounce – Facebook might be looking for the right audience or something is happening at the market (for instance, global sales).
Creatives
Creatives tend to run out of steam. However, you shouldn't change them in the active Adset. Arrange a new one and then – change the creatives.
Price for lead
If you see the price growing every day, chances are that your campaign is slowly dying. In case the prices bounces all of a sudden, you should wait for a couple of days – things might get back to normal soon.
Comments
It's crucial to interact with the audience, respond to their comments, and hide the negative feedback.
So, guys, now you know a lot about the secrets of successful Facebook advertising. The time has come to launch a campaign! Good luck!
Most Popular
Finance Surveys: types of financial surveys and how to work with them 

Zeydoo provides a dozen of Finance offers in our Smart Surveys category, but you're still not sure what the difference is? Then this article is for you – here we'll…

read more

New deal for Rewardis: giving away a ticket to AW in Bangkok! 

Let's get straight to the point. We're going to AW in Bangkok on December 7-8 and we're giving away a COMPANY TICKET to anyone who will increase their traffic volume…

read more

Gear-Up: get the 7% of your profit increase for increasing traffic volume

Zeydoo is starting the new season with this Promo to help you boost your profit. No special effort needed, just increase your traffic volume and get the 7% of the…

read more