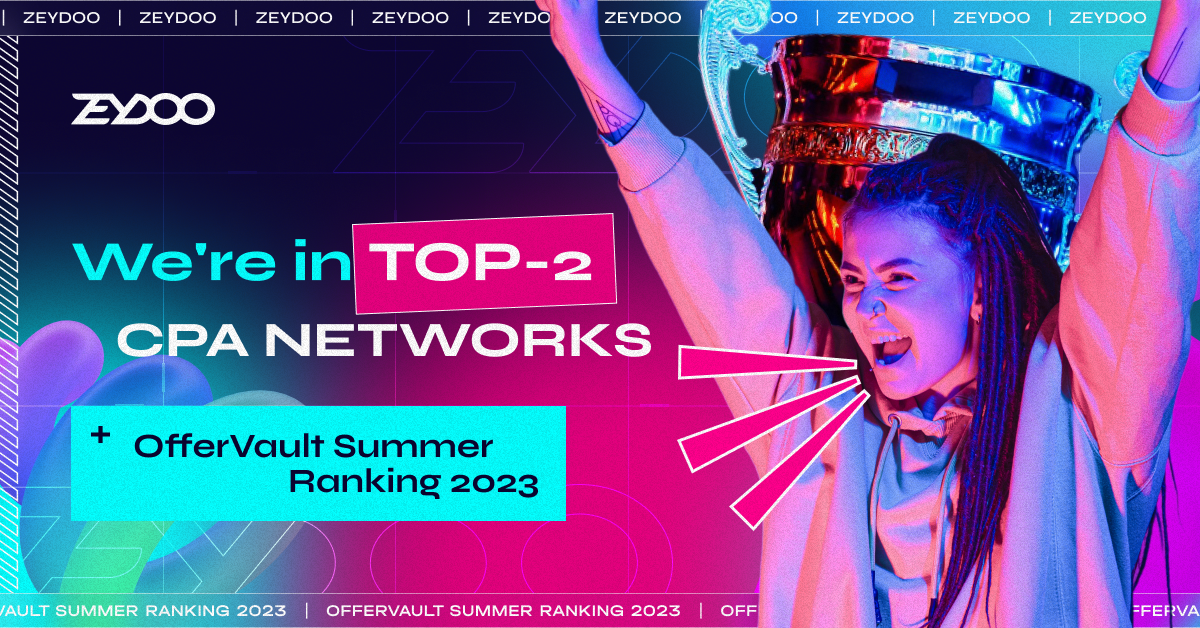 We did it: Zeydoo is in TOP-2 CPA Networks!
Yes, we are once again on top and it's all thanks to you, our dear partners! Zeydoo is now in TOP-2 CPA Networks according to OfferVault Summer Ranking 2023. We're so grateful that you appreciate our work, so we never slow down and keep earning more money with our partners.
Now we have 5 achievements in our pocket:
Thank you for supporting us, we really appreciate it!
Why is Zeydoo your key to success?
Our team keeps working everyday on developing and making our offers better so that you can earn even more. Partners choose us because we offer:
a wide range of exclusive products: from mobile apps to Smart Surveys that you won't find in other networks;
unlimited caps and worldwide coverage to scale your campaigns faster;
flexible payouts that we adapt to your type of traffic;
constant work of our team on optimizing funnels so that your CR is even higher;
quick feedback on your traffic which allows you to spend less money on tests;
stable and timely payouts.
Zeydoo is not just a CPA Network, it's an ecosystem that helps you monetize your traffic with a team that really cares about it.
There are no plans to slow down. We will keep treating you to new updates, better funnels with high CR, new private offers and other features that will inevitably increase your profit.
If you're still not with us, go register and start monetizing your traffic today. Do not forget to follow our Telegram chat to never miss an update.
Stay tuned!
Your Zeydoo team
Most Popular
New deal for Rewardis: giving away a ticket to AW in Bangkok! 

Let's get straight to the point. We're going to AW in Bangkok on December 7-8 and we're giving away a COMPANY TICKET to anyone who will increase their traffic volume…

read more

Gear-Up: get the 7% of your profit increase for increasing traffic volume

Zeydoo is starting the new season with this Promo to help you boost your profit. No special effort needed, just increase your traffic volume and get the 7% of the…

read more

Driving traffic to finance offers: vertical overview + tips from media buyers

Finance vertical in media buying is one of the most stable branches with big volumes, high rates and the opportunity to get the ROI you expected every month. In Zeydoo…

read more