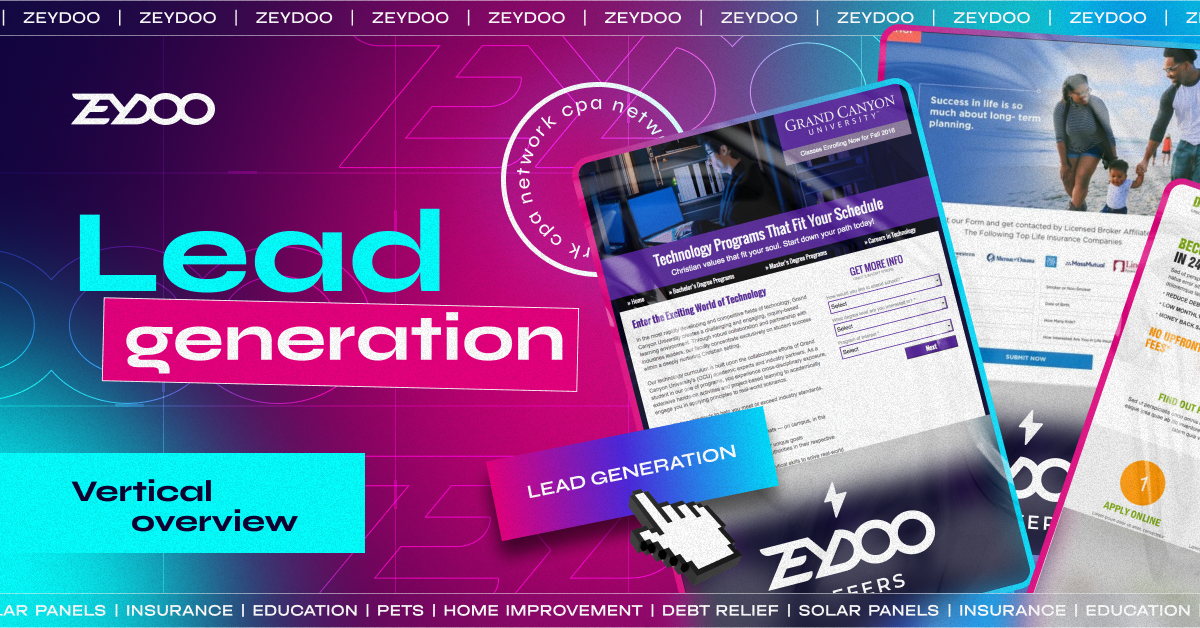 Working with LeadGen offers: services, insurance, solar panels etc.
The vertical of white-hat lead generation offers has been growing and expanding so fast in the last 5 years, that now the turnover is trillions of dollars yearly. They earned the biggest popularity on the Tier-1 market with the USA taking the leading place. In the next couple of years we expect to see an even faster development of this market. Today Zeydoo will tell more about the vertical so that you don't miss your chance to get the most profit out of it now.
We'll talk about the market size, different types of offers, approaches, traffic sources and other peculiarities of work with lead generation. We'll also have a media buying team from Zeydoo answering some of the most pressing questions at the end of the article.
Market size of lead generation offers and prospects of the vertical
The leader in money turnover on the lead generation market is obviously the US (we got the confirmation once again after attending Affiliate Summit West). This time around 80% of all attendees that we had a chance to speak to were representatives of some lead generation project in the States..
In the last 5 years the market has grown several times. And since the United States are the trend setters in different marketing approaches, we can definitely go on and take their experience with the vertical and earn big money. This is why our team in Zeydoo is actively working on expanding our lead generation vertical and scaling the performance of our publishers. Now we'll show you some numbers and you'll see for yourself why it's profitable.
For example, home improvement niche and how it's developing:
59% of all houses in the US were built before 1980;
In 2021 Americans spent $538 billion dollars in stores with home stuff;
Around 76% of homeowners call repairers at least once a year;
The income of the home improvement industry in the States was 1,1 billion dollars in 2021
The average annual growth of the industry in the USA is expected to be 4,1% by 2027.
The market size of Insurance also amounts to trillions of dollars:
Legal services ($397+ billions), education ($1.8+ trillion), debt relief markets also have trillions of dollars in the States only! Can you imagine building a steady stream of income and driving traffic without any bans? And it's possible with Zeydoo! Let's see what advantages and difficulties there are when working with the vertical.
Traffic to lead generation: advantages and difficulties
A big market size doesn't mean that the work with lead generation is simple. The niche has its peculiarities that can influence your CR and other profitability parameters.
Why Lead Generation offers are profitable:
You can have a stable projected income: once you find a working approach, you can scale it without worrying about bans and constant relaunch of campaigns;
The payouts range from $20 to $400 dollars for CPL: the rate itself depends on many factors that are usually stated on the offer's page. It can be zip codes of the area the advertiser is interested in or a certain user request. Or anything else really. The payout amount is also influenced by the quality of traffic;
Most of the well-known sources convert perfectly: Google, Meta, TikTok, ad networks with native traffic. Which means that you don't need to learn any new approaches or traffic sources, just work with what converts best and take your profit;
You have the opportunity to generate leads in different ways: from sending users directly to the advertiser's website to working with API and data collection on your side and then sending it over to the advertiser (in this case you'll have to follow the rules of user data storage).
Difficulties that you might face when working with the vertical:
Choosing traffic sources: sometimes lead generation offers do not go well with push, pop-under and other formats of ad networks. If it brings a big amount of leads, the quality is usually not up to the standard of the advertiser;
Expensive traffic: since this type of offers is extremely popular in the States and in some Tier-1 countries, you might need more money to spend on tests thanks to higher CPM;
Following the rules of user data collection and storage: if you plan on collecting leads and then sharing them with the advertiser, you need to follow the strict rules of user data collection and storage. Otherwise, the advertiser might face problems with the law.
Before working with each offer, learn more about their restrictions and peculiarities from the platform's manager.
Types of offers
Let's take the most popular types of offers in lead generation that are available for affiliate marketers.
Home improvement 
Here we have all possible home services: installation of windows, roof repair, plumbing and other household services.
Solar Panels
Installation of solar panels that helps save money on energy bills.
What you can work with now: 
Nutra offers
Lead generation for any orders that need a call center to verify them.
Insurance
One of the most widespread services in the US – life/health/property/car/pet insurance. The list of services is long and since they are so common for all Americans, they convert really well.
Education
Different services connected with the education sphere: tuition fees at the university, online courses, essay or research paper writing.
Debt relief
Debt relief includes different financial organizations that help request partial or total debt relief. Since many Americans live in debt, this service is extremely relevant all the time.

Pets
Lead generation for pet services: pet stuff, grooming, vet clinics and other organizations that make money on working with pets.
Finance
Financial services: bank cards, loans, auto insurance, MFOs etc. Go to our other article to learn more about working with finance.
If you want to test lead generation offers or scale your campaigns, Zeydoo will help you. Sign up here and we'll find you the best offers and rates for your type of traffic. 
What types of lead generation are there?
The flexibility of lead generation is obvious when we talk about lead collection:
Direct link: send traffic directly to the landing page of the advertiser;
Lead collection through the form on your website: it's better for SEO traffic and content websites. You place a code with the advertiser's form on the landing page, and once the form is filled, the lead will automatically go to the advertiser;
Pay Per Call: send traffic directly to the call center that processes the lead. Especially popular with Google campaigns that have pay per call aim;
Manual lead collection: collect leads on your landing page and after that send it to the advertiser through API. In this case there are some risks with data collection and storage, so make sure you know all the nuances.
If you don't know which approach to choose, talk to our managers in Zeydoo. We'll help you understand how it works and tell you more about how each offer works with each approach to increase your ROI and traffic quality.
Traffic sources
Here are some sources that can bring high quality traffic to lead generation offers:
Google (PPC)
Teaser networks
Facebook
SMS
Email
SEO
Before starting traffic make sure to check the offer's card for the restrictions. Or talk to your manager to get your traffic source approved by the advertiser.
Lead generation is an evergreen vertical with huge volumes and potential. Register with Zeydoo, send traffic to leadgen and create stable sources of income.
Most Popular
New deal for Rewardis: giving away a ticket to AW in Bangkok! 

Let's get straight to the point. We're going to AW in Bangkok on December 7-8 and we're giving away a COMPANY TICKET to anyone who will increase their traffic volume…

read more

Gear-Up: get the 7% of your profit increase for increasing traffic volume

Zeydoo is starting the new season with this Promo to help you boost your profit. No special effort needed, just increase your traffic volume and get the 7% of the…

read more

Driving traffic to finance offers: vertical overview + tips from media buyers

Finance vertical in media buying is one of the most stable branches with big volumes, high rates and the opportunity to get the ROI you expected every month. In Zeydoo…

read more