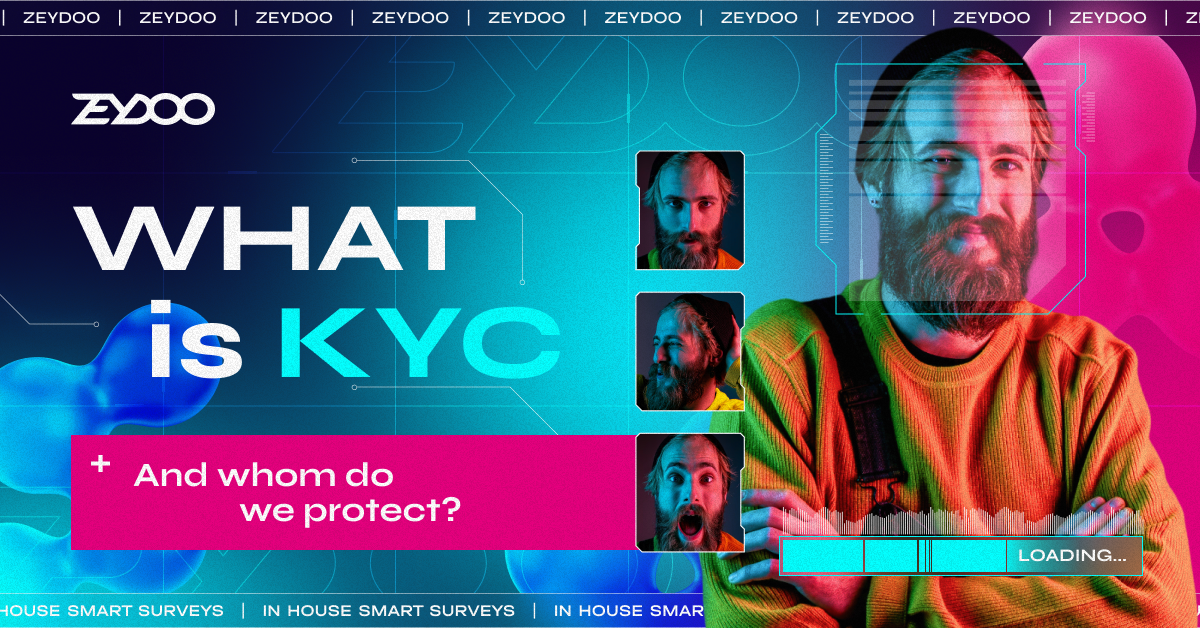 Zeydoo's KYC: Everything You Should Know
There is a time to play and shower you with amazing offers, and there is a time to get more serious. And when it comes to your safety, our dear clients, we want to make sure that we take all the measures to make your experience with Zeydoo as accommodating as we can.
So, in the spirit of safe and secured campaigns, let's talk about the KYC. We'll tell you all about why you need it, what it does, and how we make sure that your account and data are protected.
So, what is KYC?
KYC is an abbreviation of Know Your Client. It's a process that checks who you are, that you're doing all the financial operations from your accounts, and that you will not try to run any suspicious financial activities through your Zeydoo account.
It is a way for you to enjoy our offers uninterrupted, and for us to continue providing you with a constant flow of amazing offers from all the verticals.
You do it to get your Safe Pass, you can't purchase a ticket without passing the KYC, and most certainly you did it with all your advertising accounts, to make sure that no one else but you could ever access them. So is it such a surprise that you're doing it with Zeydoo as well?
But let's see what's the whole fuss with the KYC, and why it's so important.
Why do you need to pass the KYC
The KYC shows that we care about our customers and your safety. You must be thinking: "Blah, blah… you don't really care, that's just nonsense." Right? Wrong! By verifying both our accounts, we ensure a clean and transparent process, eliminating the risk of suspicious or fraudulent financial activities.
On a more personal level, you'll pass this verification step, also as a way for us to check that someone else is not falsely trying to use your identity, or unlawfully take the funds from your account.
On a larger scale, the KYC can ensure that all the relationships between us and our clients are not a cover up for therrorism, corruption, or money laundering. This simple process offers a way for worldwide governments to securely track funds, and stop illegal activities that might affect business. In other words:
Identity fraud,
Terrorism financing,
Money laundering,
Financial Fraud.
Any suspicion of these actions would lead to accounts being freezed, and our activity being interrupted. But because we don't want that to happen, we take all the steps to ensure the smooth functioning of your campaigns.
Whom and what from does this procedure protect
Every company that is important, like Facebook, Google, PropellerAds, ProPush, Payoneer, Voluum, etc. is running this verification. In fact, it's a must whenever financial transfers are involved (from the company towards a client's account, or from the client towards the company).
This procedure can ensure the healthy functioning of your account. And it will make it simpler:
for the company to demonstrate its honest and transparent activities,
for the clients to run transparent transfers through the company, and continue enjoying our offers undisturbed,
for the government to check that we're conducting a serious business, and have nothing to hide.
So it protects both you and the company, along with the government. And it helps ensure that we won't have to get into boring check-ups when there's anything that might raise any suspicion. Simply put, a win-win-win for us all.
Zeydoo's Data Processing and Protection
We hate boring you with paperwork verifications. So we aimed to make the KYC process as simple as it gets. That's why the KYC verification with Zeydoo mostly involves an identity and payment account check. Super fast and convenient.
All you need to do is share with us your id, Passport or driver licence, and payment account details. And we're done!
As for data protection, there are many laws governing it, amongst the most important the General Data Protection Regulation (GDPR). It dictates full transparency regarding how your data is disposed of once the verification process it's over with.
So, once we've processed your data, all your personal information will be permanently deleted. No third party, no storring, or anything of this sort. How so? Because we said so, and we follow the GDPR.
Also, we're super professional when it comes to handling clients' accounts, so you can rest assured that only qualified employees will process your information. You can read more about our Privacy Policy here.
If you need assistance with your onboarding or account verification, please let us know. We're an email away, at support@zeydoo.com.
Most Popular
Finance Surveys: types of financial surveys and how to work with them 

Zeydoo provides a dozen of Finance offers in our Smart Surveys category, but you're still not sure what the difference is? Then this article is for you – here we'll…

read more

New deal for Rewardis: giving away a ticket to AW in Bangkok! 

Let's get straight to the point. We're going to AW in Bangkok on December 7-8 and we're giving away a COMPANY TICKET to anyone who will increase their traffic volume…

read more

Gear-Up: get the 7% of your profit increase for increasing traffic volume

Zeydoo is starting the new season with this Promo to help you boost your profit. No special effort needed, just increase your traffic volume and get the 7% of the…

read more