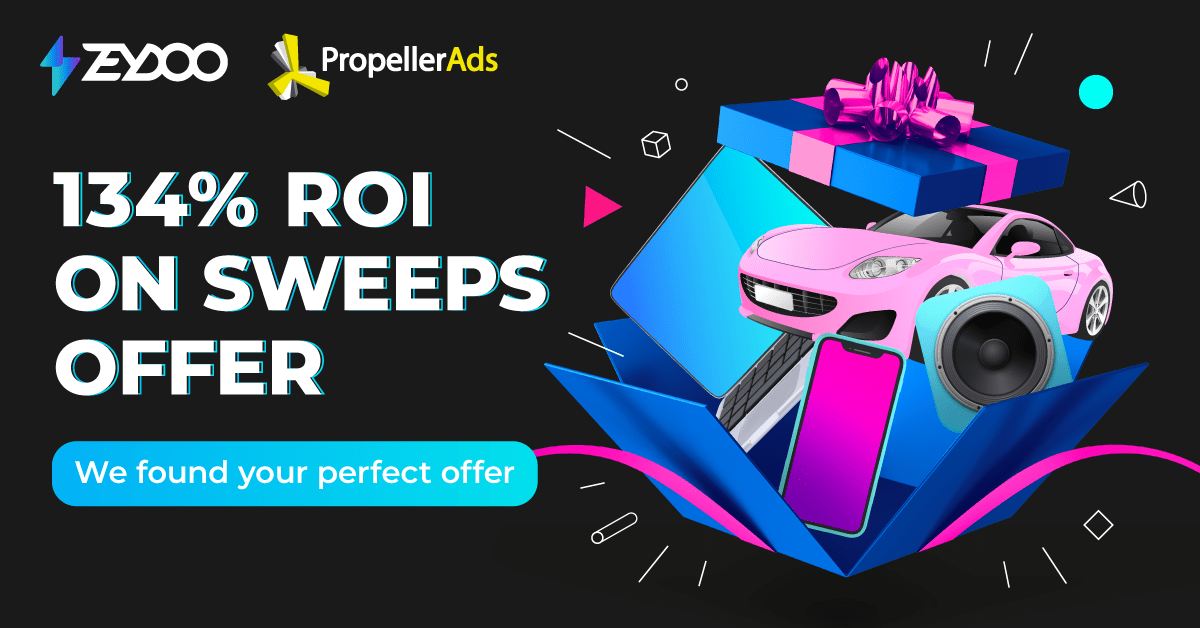 134% ROI on Sweepstakes
Hey, guys!
Today we would like to tell you how you can get +130% ROI on default creatives and pre-landers with Sweepstake offers. Let's start with a beginning:
Offer: 2072 CO – Sweepstake Offers
CPA Network: Zeydoo
Traffic source: PropellerAds
Spend: 620$
Profit: 1452$
ROI: 134%
Choosing your offer and GEO
Well, the main point is, obviously, the offer. While everyone drives traffic to concrete products like iPhone, iPad, or Dyson, I decided to choose something more universal – where users get a chance to win a car, TV, iPhone, or loudspeakers after filling in the form. To be honest, I was curious how such offers work.
I chose Zeydoo CPA Network because of the big variety of Sweepstakes offers, especially SOI. Moreover, I know Zeydoo for a long time and totally credit them.
The first GEO I decided to choose was Colombia. Sweepstakes worked really well there + this GEO has quite cheap traffic. For testing purposes, I assume that such GEOs are the most cost-efficient.
An important moment: the testing budget differs for every combination (GEO + vertical + traffic type). If it is Push Notifications + Sweepstakes + Colombia, I suggest spending not less than 200$ to estimate performance. If we take, let's say, Mexico, traffic will not be cheap at all, and you should spend at least 350-400$.
Creatives
My chosen default creatives have an easy flow: all you need is just to add an email. Due to this simplicity, they show good results on SOI Sweepstakes. Why default ones? Because they work well when it comes to grabbing the user's attention and convincing him to complete a target action. I used the following combination:
Push Notifications
Extremely eye-catching push notifications.
1.The first one with the WhatsApp icon was efficient – it looks the way someone calls a user. And attracts maximum attention.

2.The second was somewhat less striking and brought a bit lower result. The user sees that he won a prize but he needs to complete some steps to get it.


Next, the user is redirected to the pre-lander with prizes. Usually, such pre-landers work great and I haven't seen any better approach before. They warm up the audience and give a feeling that the user has a chance to get a prize.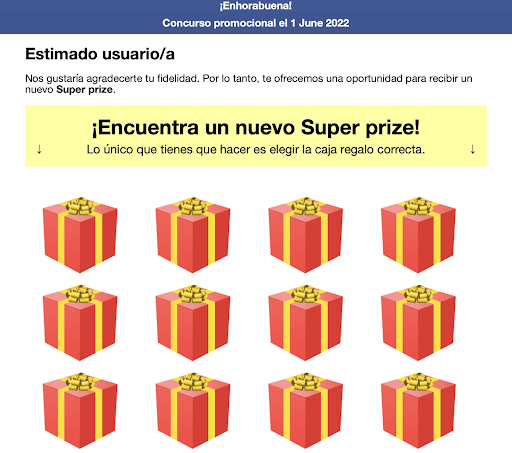 From this pre-lander, the user will be redirected to the main landing page, where he needs to fill in data (email). Easy-peasy, agree?
Aside from that, I would say that if you drive traffic from Push Notifications or Popunders, you can use additional monetization features. There are two options available at Zeydoo:
ProPush.me Tag. This Tag helps you to subscribe users for Push Notifications and get additional income. Usually, additional income varies from 10% to 25-28% (that is what I had). This helps you cover the testing campaign, even if your pre-lander didn't convert well, those who visited it, anyway, would bring you money. These users bring money during 2 weeks since they subscribe. You can easily register in Propush right via the banner at ZeyDoo.
TrafficBack. In this case, if the traffic is not relevant, the user will be redirected to a SmartLink and if he converts, you will receive a payout as per lead according to the offer in SmartLink. It's really hard to predict how much you can earn, I got from 5% to 47% (if the lead converted on a good offer with a high payout). You should request a SmartLink from ZeyDoo and embed it in your tracker in the traffic back field. All devices and GEOs are available. It's important to receive only mainstream traffic, since adult traffic is forbidden. Your payout depends on what will convert, maybe a mobile app by CPI or iGaming by FTD. It all depends on your traffic and audience. The longer you drive traffic, the more optimized your campaign becomes – offers get more precise for your target audience interests.
Good luck and profit to you! The next case study is about Sweepstakes as well but mostly about holiday traffic and ways t o get the most of it!
Most Popular
New deal for Rewardis: giving away a ticket to AW in Bangkok! 

Let's get straight to the point. We're going to AW in Bangkok on December 7-8 and we're giving away a COMPANY TICKET to anyone who will increase their traffic volume…

read more

Gear-Up: get the 7% of your profit increase for increasing traffic volume

Zeydoo is starting the new season with this Promo to help you boost your profit. No special effort needed, just increase your traffic volume and get the 7% of the…

read more

Driving traffic to finance offers: vertical overview + tips from media buyers

Finance vertical in media buying is one of the most stable branches with big volumes, high rates and the opportunity to get the ROI you expected every month. In Zeydoo…

read more