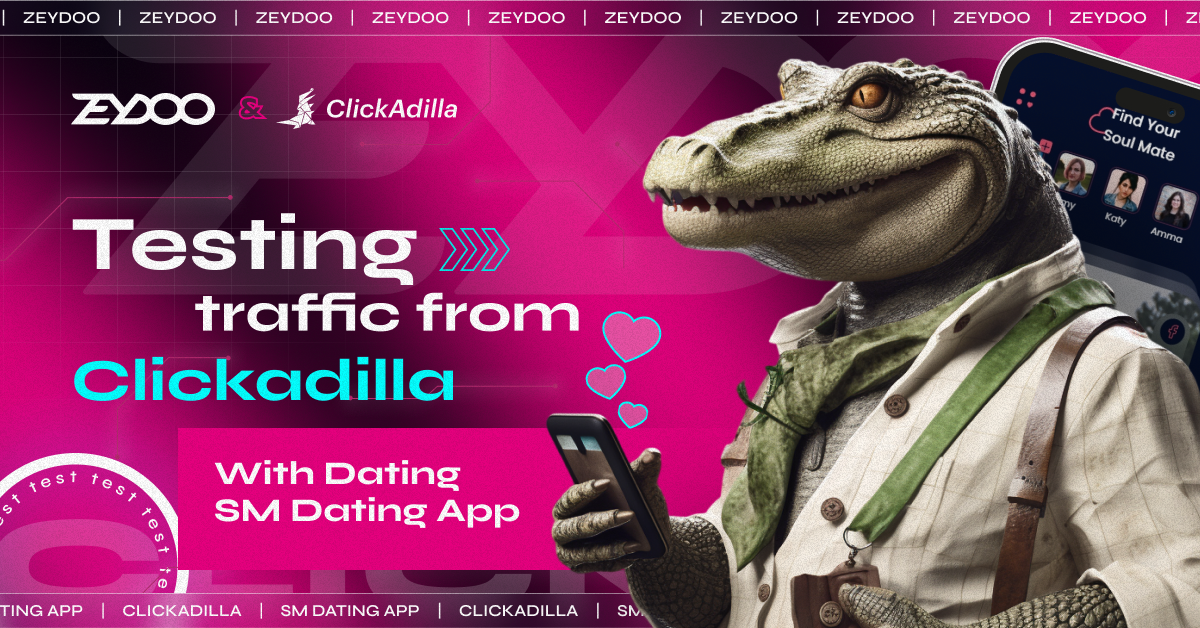 I tested a dating offer from Zeydoo with Clickadilla traffic. How did it go?
The Zeydoo team is constantly working on making the profit of our publishers bigger and more stable. One of our partners shared with us the results of testing one of our dating products with traffic from the ad network Clickadilla. Read it and go try for yourself!
Hi, this is AfterZavod and today I'll show you how I ran push traffic from Clickadilla to an exclusive dating product from Zeydoo and I'll share the results of the test.
Just a quick disclaimer: this is not a full-on case study with big numbers, this is just a test where I was trying to see if it's worth running traffic from this ad network to dating offers. Let's see how it went.
Affiliate Network: Zeydoo
Offer: SM Dating App Android Prelander
Advertising Network: Clickadilla
GEO: Japan
Test period: 8 days
The test was very short and small in terms of budget, since this is the first time I've worked with Clickadilla and I just needed to see the quality of traffic and how it converts with the offers that I know well. I've already worked with this Zeydoo product and I know what the CR should normally look like with it. If you're interested in my previous case study with this offer, you can read about it here: Earned $1,400 with SM Dating App.
Why I chose Clickadilla + Zeydoo
At the beginning of 2023 I decided to test the ad network Clickadilla. I chose the In-Stream format (or video pre-roll) and I worked with a popular dating offer from Zeydoo – SM Dating App.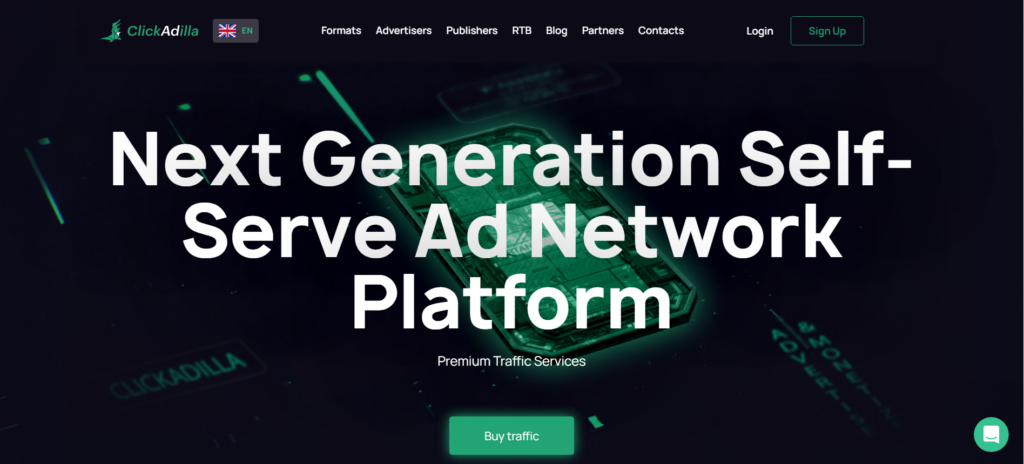 The ad network offers a big variety of ad formats: banners, in-app, push notification, pop-under etc. You can always go to the network itself to check out the rest. The minimum threshold for deposit is $50.
I decided to test SM Dating App. because I'd already worked with it before (and I had some previous stats from other ad networks). This is an exclusive product from the affiliate network that no one has (what's more: Zeydoo is now focusing on their exclusive products only, so you can go check out other offers for tests).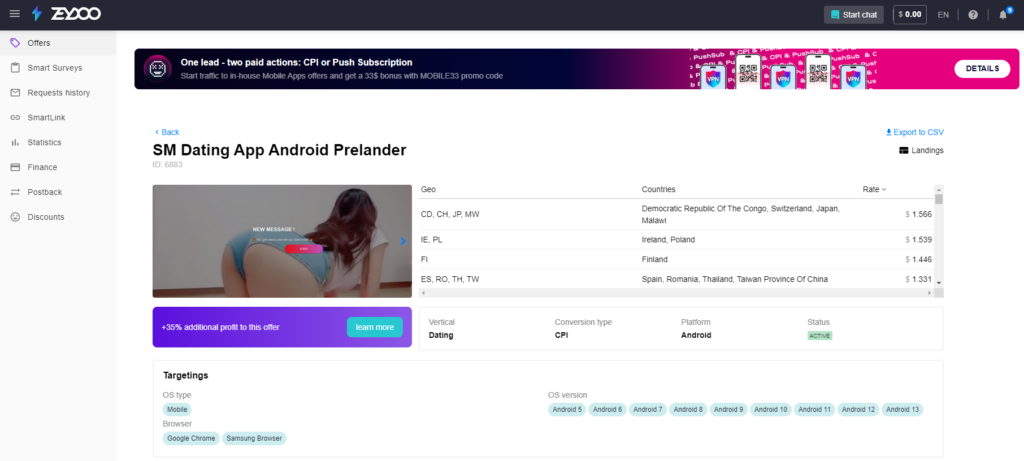 Setting up the campaign in Clickadilla
I usually bid higher than the system recommends so that I get a good enough amount of traffic at once, since the price on the auction changes constantly. The bid can vary depending on the time period. I tested the offer in February, so I know that the bid has increased three times since then.
I tested the In-Stream format – these are pre-rolls before a video. Payout model – CPM.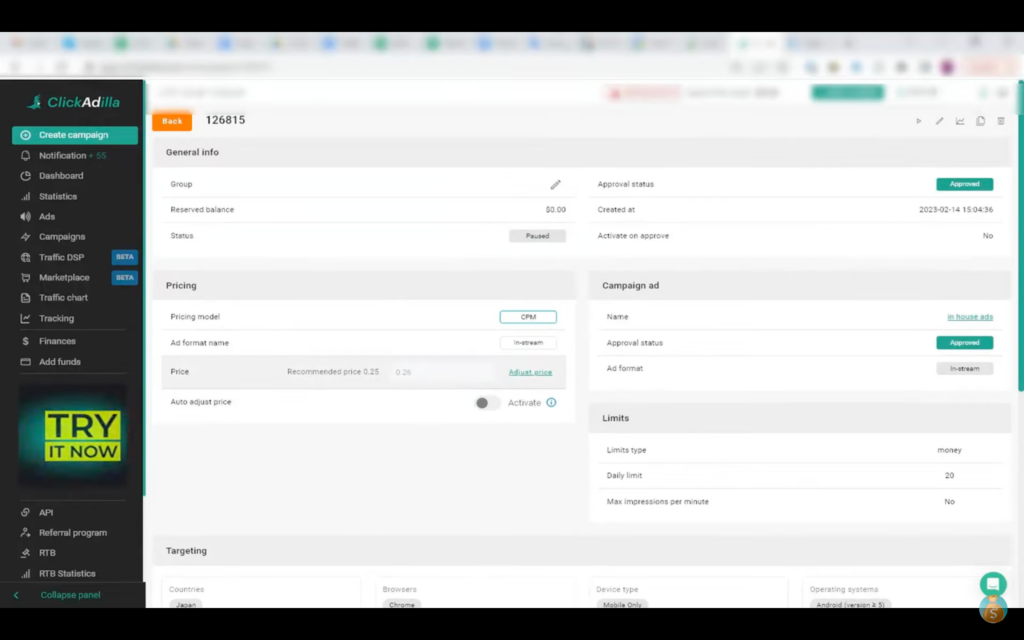 I worked with Japan – the offer is available only for Android and I installed the OS as well. I had only premium websites left so that the test was good. And we know that every network has websites with low quality traffic so I wanted to check Clickadilla with traffic from good platforms.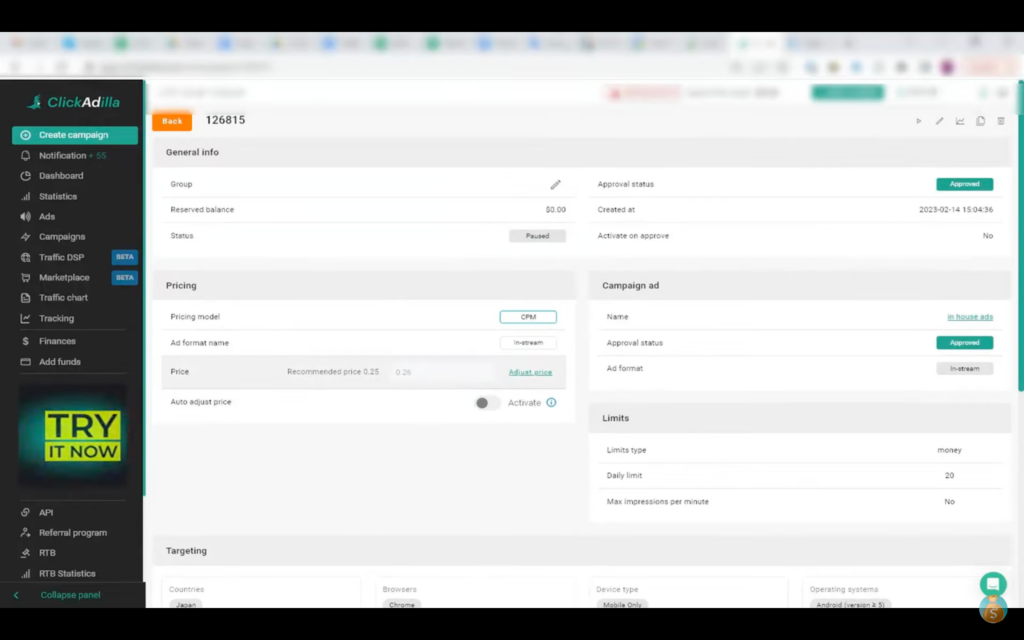 Test statistics
So after a week of slow tests on a small budget (up to $20 daily) we managed to get 25 conversions. The traffic flow was consistent and didn't surpass our daily budget. On the screenshot you can see a decrease – this is when I paused the campaign and waited for the rest of the conversions and started thinking how I could optimize the campaign.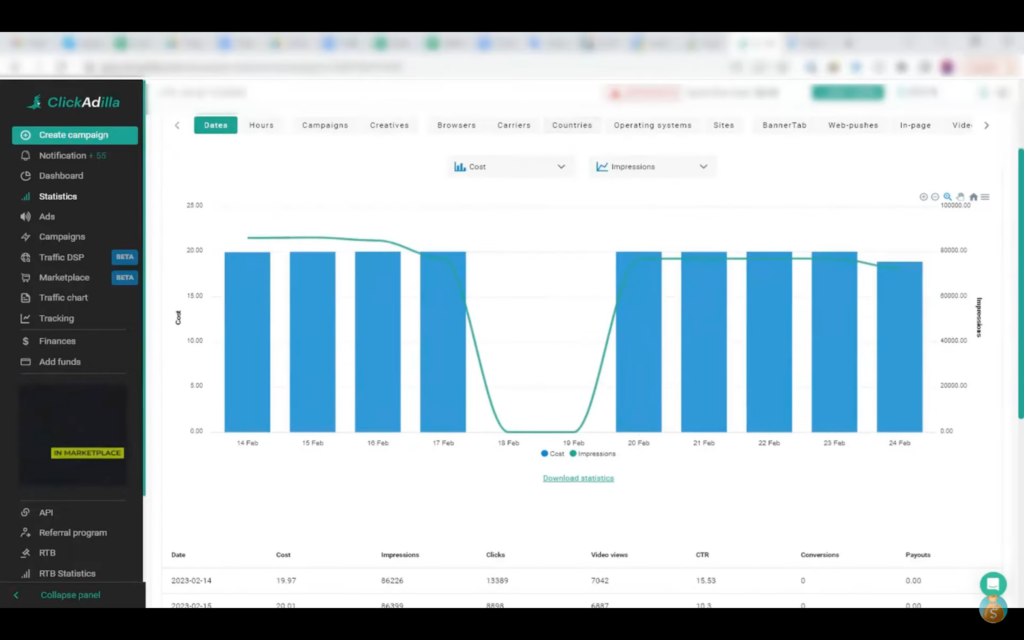 In the screenshot below you can see the figures. There are no conversions in Clickadilla because I never set up a postback.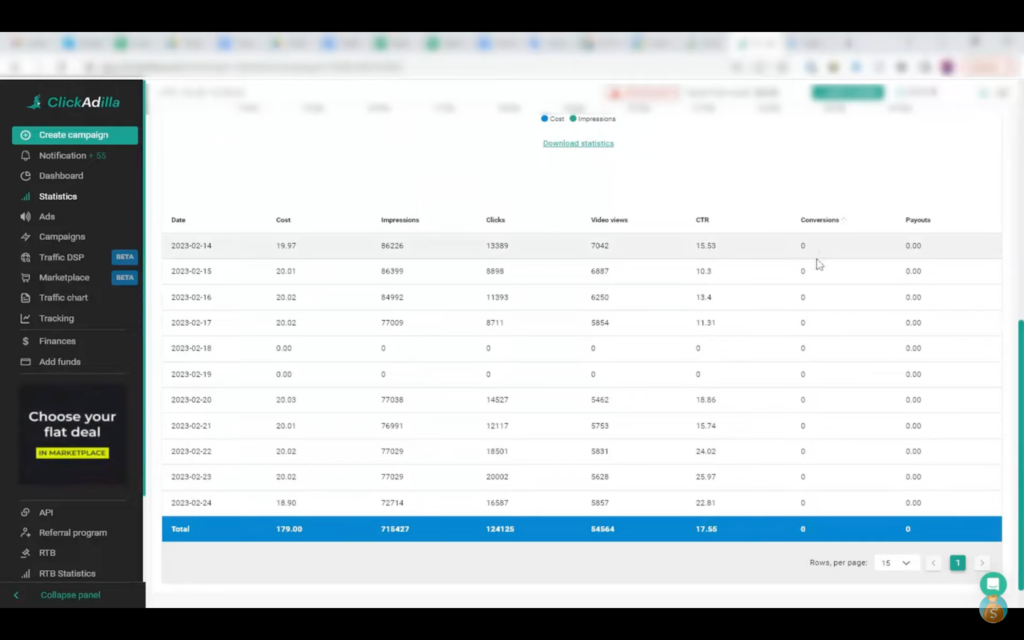 The statistics in Zeydoo showed 25 conversions. I tested 3 offers and the best converting was SM Dating App.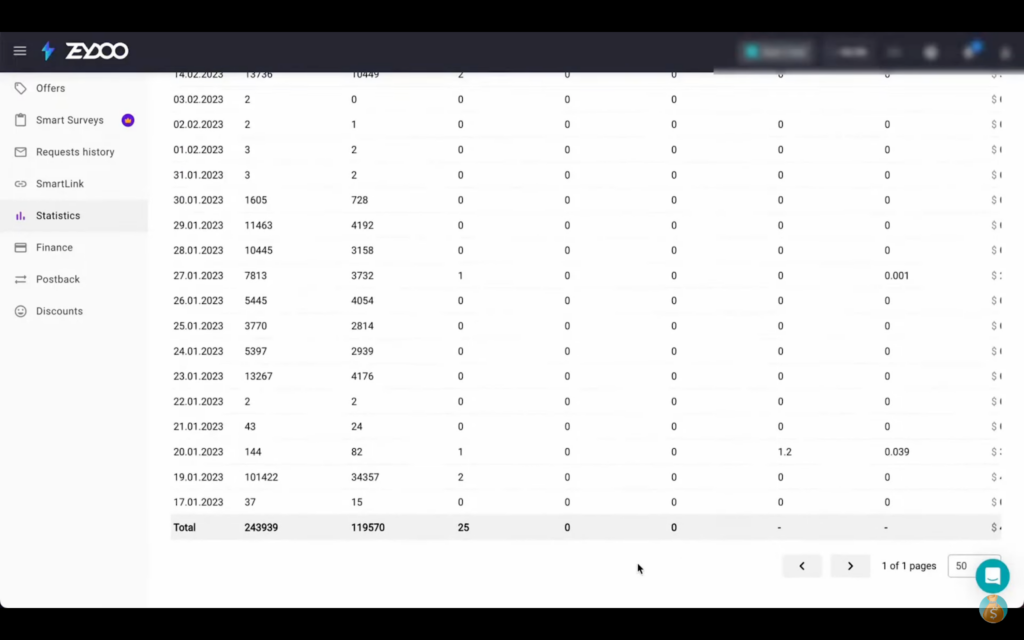 I think the Zeydoo + Clickadilla team worked well together, so I'll keep testing it. I won't encourage everyone to do the same tests with SM Dating App, you can always look at other exclusive offers from Zeydoo. I tested several offers in the affiliate network and will keep working with them. Clickadilla also deserves a bit of praise: a user-friendly account cabinet, an easy process of setting up the campaign and monitoring the results. The audience is active, the CTR was quite high. I will also keep testing them.
If you want me to test another offer with this ad network – write a comment here. Also follow my Telegram channel to never miss updates or news.
Also don't forget to join Zeydoo's Telegram channel for more offers, updates and exclusive deals. Register and start working with exclusive products. And may the profit be with you!
Most Popular
New deal for Rewardis: giving away a ticket to AW in Bangkok! 

Let's get straight to the point. We're going to AW in Bangkok on December 7-8 and we're giving away a COMPANY TICKET to anyone who will increase their traffic volume…

read more

Gear-Up: get the 7% of your profit increase for increasing traffic volume

Zeydoo is starting the new season with this Promo to help you boost your profit. No special effort needed, just increase your traffic volume and get the 7% of the…

read more

Driving traffic to finance offers: vertical overview + tips from media buyers

Finance vertical in media buying is one of the most stable branches with big volumes, high rates and the opportunity to get the ROI you expected every month. In Zeydoo…

read more