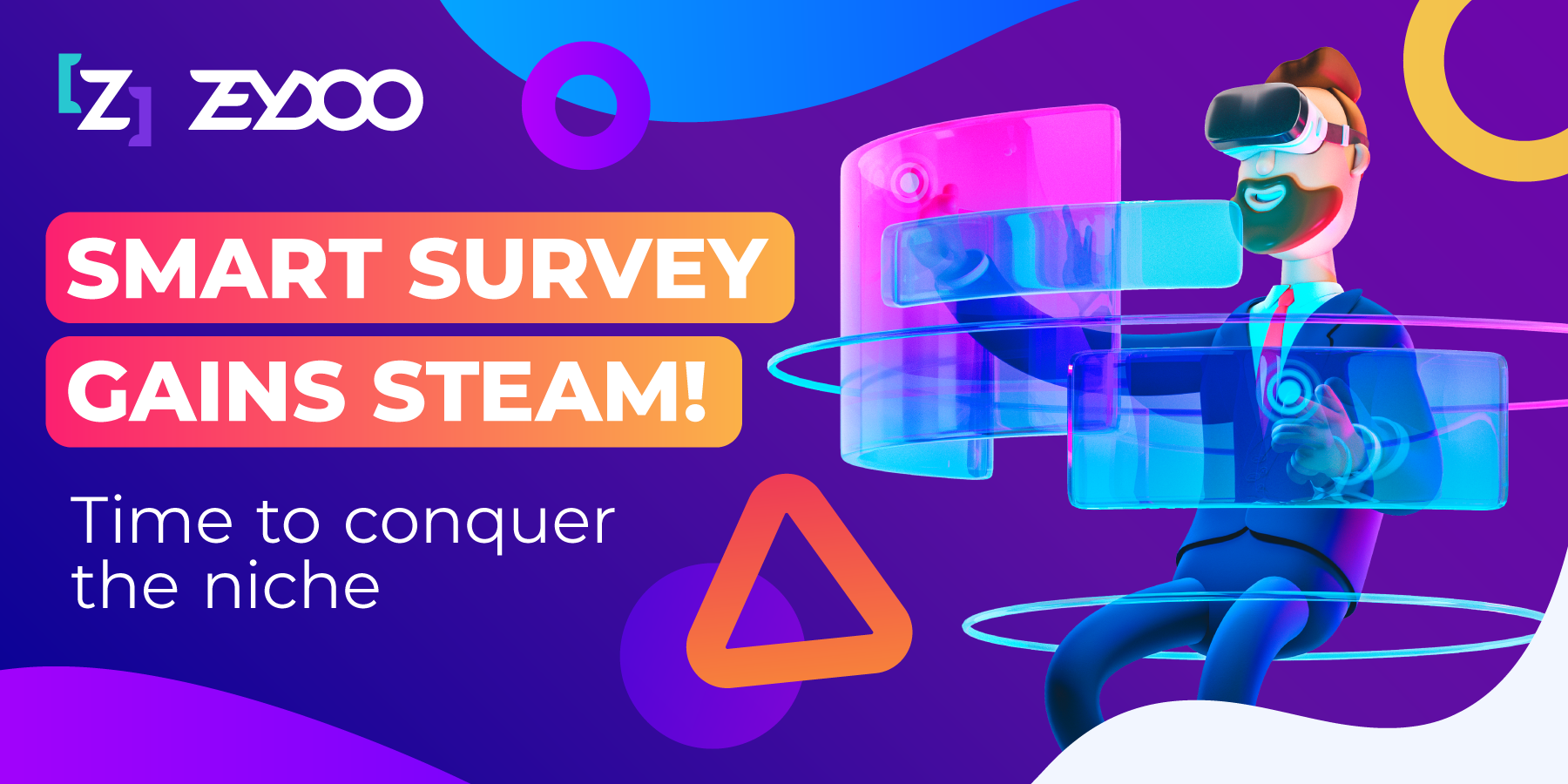 Survey Offer Gains Steam! Wanna try?
At the beginning of the year, we presented a brand new survey offer. Here is the gist: users are welcomed to take a small and rather interesting survey. The main hook sounds like: "Is the online career something you should try in 2021? Are you the one to become a real millionaire?" Indeed, the question is hot, so no wonder that so many users participate actively!
Our partners gave this offer a tumble and you know what? They literally conquered the stratosphere! Their profit spiked like crazy and the most important – stayed on top.
Just take a look:
One of our pubs keeps his profit stable and sometimes reaches an incredible $6K per day: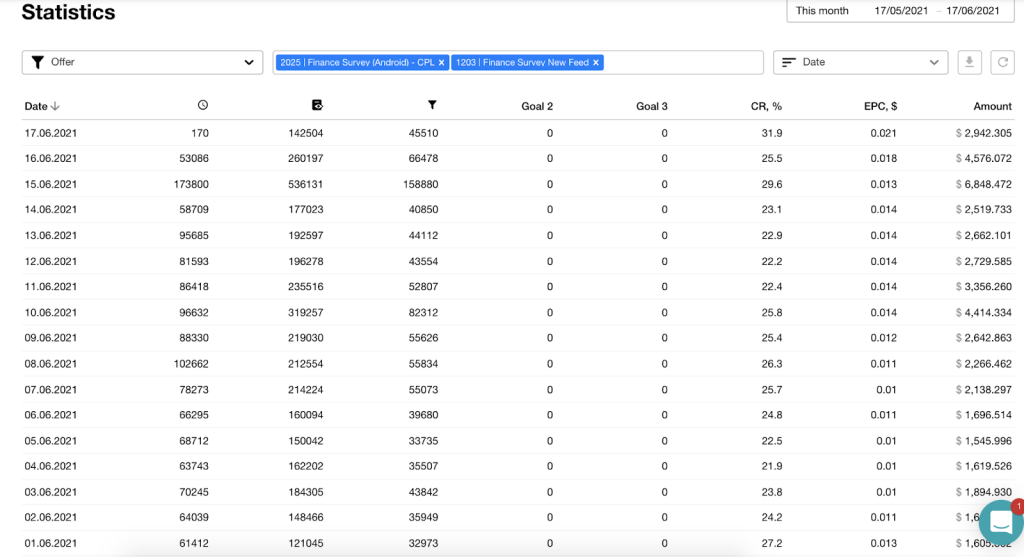 Another publisher accelerated his campaign in a matter of two months:

And here is the third publisher who can boast of the rapid profit growth. He tested the offer for a month only: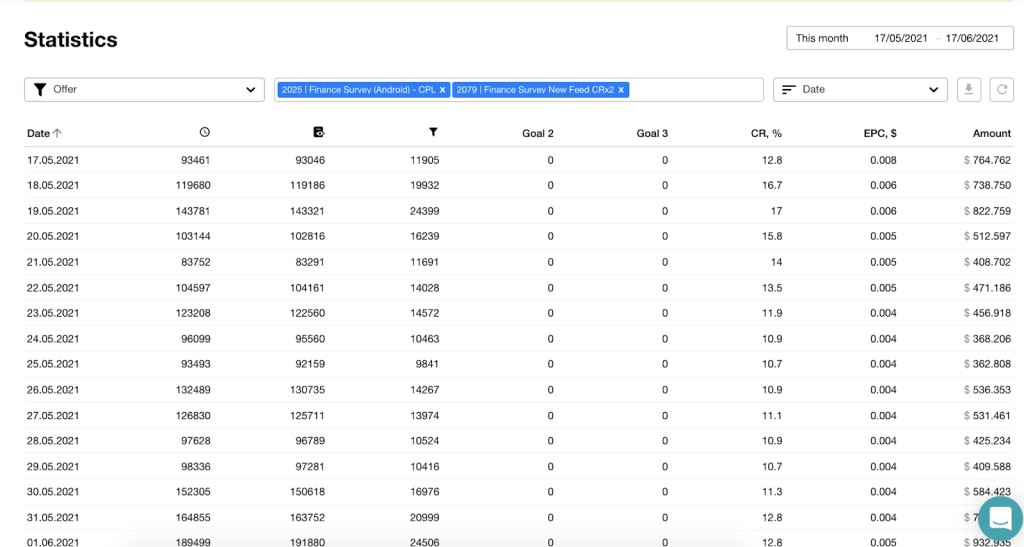 No magic – just facts and proofs! The numbers reveal pretty much, but if you need more information about the offer, check this and this.
So, what's the catch?
Here is why our survey-offer shows great and longstanding results:
No GEO-restrictions: you are welcome to promote this offer around all imaginable GEOs, from all existing Tiers. Do some testing, experiment with creatives, and adjust targeting to get the best results.
Stability: the offer is active for six months already. It shows amazing results and will definitely gladden you hereafter. We're not going to stop it.
Great terms: caps are as great as $500 per GEO daily even if you are a newcomer. In a couple of days, you will get uncapped or recieve a set of individual opportunities (depending on your performance).
Simple conversion: the survey includes five short questions, which is the simplest conversion for your CPL payment model.
Convenience: fixed CPL allows you to optimize huge traffic volumes. And no nasty surprises.
Various platforms: the offer works perfectly for both iOS and Android, but the latter one shows really incredible results.
Soft landing page: the landing is smooth and modest, so even the pickiest moderator will approve it.
Customer support: our managers will gladly help you with campaign optimization. After your first $250, we will increase the rates for the best GEOs and help you perform like a star.
And there is more…
Let's move to the most pleasant news of the month. Ready? Then here we go:
We have doubled the rates for most of the GEOs;
Conversions hopped for 15% since we have scaled the redirects down;
If you know how to work with dynamic prices and want to earn more – rejoice! We have revshare now.
So, it is high time to see our survey offer in action. Are you ready? Then let's roll!
Okay, and how does it work?
Promoting the survey is easy as ABC. It is absolutely perfect for everyone who knows where to get affordable traffic. The more low-cost traffic you get, the better – this offer handles significant volumes easily. Cheap popunder and push are exactly what you need.
May the low rates bother you not! First, remember about simple conversions. Second, rates cannot bring you happiness, your aim is profit.
Also, this offer can be a great additional monetization source. It is a good match for your landing page and complies with traffic back perfectly.
Do you work with smartlink? Then you have another great combination to try out. Test it and the results will make you excited for sure.
As you can see, this survey-offer is omni-purpose, so wait no longer and get to work, no matter which strategy you prefer.
Inspiring case for dessert
And now let's discuss the real case of our partner. The described campaign skyrocketed like crazy, but remember that you don't have to copy it – grasp the core principles, analyze, and act in your own style.
Network: Advertise
Rates: default Zeydoo payouts
Period: 7 days
GEO: ZA, CO, BR
Connection: 3G/WiFi
Spending (in a week): 1,072$
Namely:
ZA: 469,28$
CO: 499,33$
BR: 103,08$
Revenue: 100%
And here is what our partner says:
"I created campaigns for each GEO separately, no black lists, and launched them with Zeydoo's default rates. I did it to see if there is something I can earn. The results were pretty inspiring right after the launch."
"I tested the campaigns for a couple of days and reached the offer limit – $250. So I asked Zeydoo managers to check the quality. They responded that everything was great and I can continue working. However, such rates didn't seem too profitable and I asked if they could raise them. Plus, I needed some optimization help."
"The guys from Zeydoo increased rates for CO and BR – by 25% and 15% accordingly. Then I continued buying traffic and we optimized the campaign a bit. The manager helped me to switch some less beneficial sources off and then – boost the best ones."
"After we composed blacklists and doubled campaigns for particular sources, I reached significant volumes. "
"No additional creatives were used – it was just an elementary test. Now I guess I will test different approaches and do some experiments with pre-landers, GEOs, creatives, and more. "
As you can see, our survey-offer is simple, rather elegant, and multipurpose. However, the best and most important thing – it brings profit. Launch your campaign now and see it yourself!
Remember, Zeydoo is always here for you – our managers will help you optimize your campaign and make sure that everything's just hunky-dory. Good luck!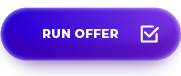 Most Popular
New deal for Rewardis: giving away a ticket to AW in Bangkok! 

Let's get straight to the point. We're going to AW in Bangkok on December 7-8 and we're giving away a COMPANY TICKET to anyone who will increase their traffic volume…

read more

Gear-Up: get the 7% of your profit increase for increasing traffic volume

Zeydoo is starting the new season with this Promo to help you boost your profit. No special effort needed, just increase your traffic volume and get the 7% of the…

read more

Driving traffic to finance offers: vertical overview + tips from media buyers

Finance vertical in media buying is one of the most stable branches with big volumes, high rates and the opportunity to get the ROI you expected every month. In Zeydoo…

read more