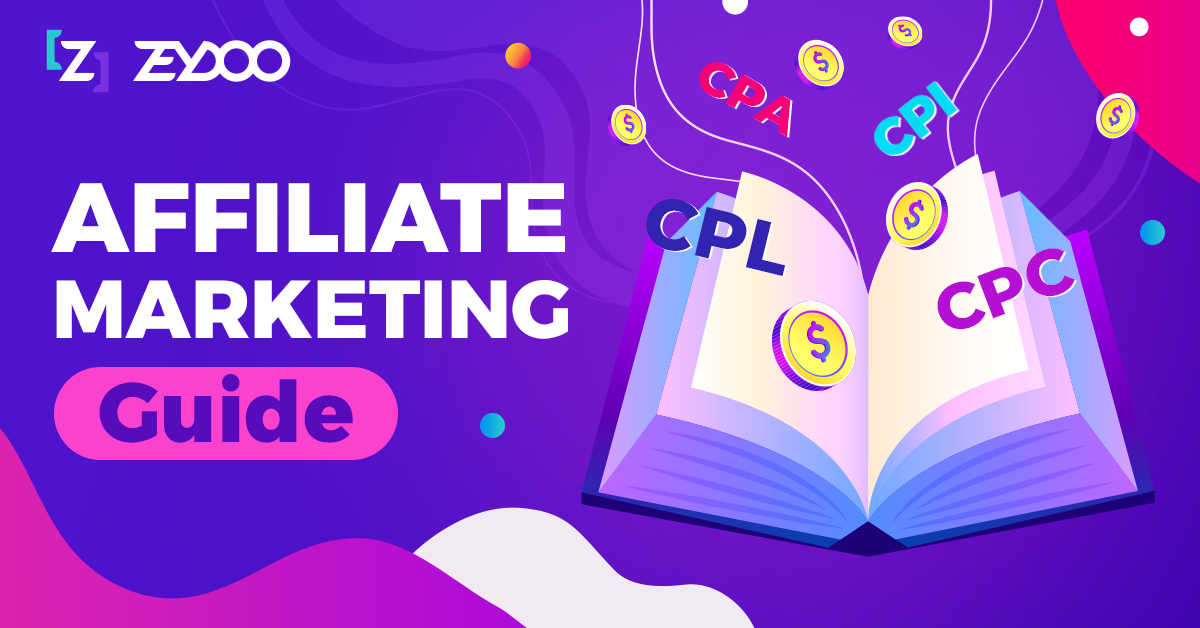 The Fundamental Affiliate Marketing Guide
Affiliate marketing is a way to get money from web traffic, and a pretty efficient one, we must admit! However, to pitch in with the stream, you should be aware of some important basics. Today, we are going to have a really detailed conversation about a successful affiliate marketing start and further growth.
So, what is affiliate marketing?
Being an affiliate marketer means promoting and selling products for a commission. You act as an intermediary figure without owning any of those products or services – your task is to advertise them and get your percentage from required users actions (clicks, registrations, surveys, purchases, and more, depending on the payment model).
Even though such a brief description sounds pretty simple, the process is multi-layered and there are numerous aspects to consider.
How does it work?
Here is how the affiliate marketing process looks like. First, the product owner creates an affiliate program and provides each of his affiliates with a unique link. In turn, the affiliates use those links to promote goods. While each of them gets a unique link, a product owner has a clear sales picture and knows how each of them performs.
Second, affiliates prepare a campaign, create content, and launch the ad. Then users see the promotion and if they are interested – they click the link. Due to cookie files, the product owner stays informed about the action made and knows which affiliate initiated it. Usually, affiliates receive commissions if users made a purchase, but in most cases they are rewarded even if the action was not completed immediately. As cookies have expiration dates, the customer is expected to buy goods before that time. If he does – affiliate gets paid.
Who takes part in the process?
Let's discuss the key participants of affiliate marketing deals and explain their roles.
Product owners: those who have goods to advertise and sell
Product owners can be either companies or individuals. They reward affiliates for successful promotions and sales.
Affiliates: those who advertise products
Affiliates are either individuals or companies that promote goods and services, but don't own them. As a rule, they create promotional materials, like banners and pre-landers relevant to the offer. The platforms for their activity vary: social media, websites, blogs, and more.
Customers: those who actually buy products
Customers are Internet users. They interact with ads and perform desired marketing actions – purchases, downloads, views, clicks, etc.
Affiliate networks: third-party websites
Affiliate networks help sellers, advertisers, and ad space owners find each other. Also, they manage deals between players and track the work process. They usually provide different tools for campaign management and optimization and analytics.
Payment models for affiliate marketers
The question about payments is something that interests everyone aiming to start an affiliate marketing career. So here are the most common payment models:
CPC (cost per click)
This model implies commissions per generated clicks. Even if the user doesn't buy anything, but clicks the link, the affiliate will get paid anyway.
CPS (cost per sale)
In a CPS model, affiliates receive commissions for sold products.
CPL (cost per lead)
And a CPL model means that affiliates get money for the leads they bring.
Which advertising channels do affiliates use?
There is a broad selection of channels for affiliate marketers. Not all of them are equally popular, so let's stop on the most efficient ones:
Social media influencers
Influencers are known as so-called Internet-stars (namely, on Instagram, Facebook and YouTube). They are popular people with numerous subscribers and fans. The great thing about influencer marketing is that the audience is already engaged and maximally interested in what their idols have to say. As such, they will pay attention to any product an influencer promotes.
Influencers can advertise products in many ways, including reviews, unboxing, live streams, and more.
Blogs
Blogging is a great way to receive organic traffic and rank in Google results. Organic traffic is a natural way for interested users to click a link and get the information they were looking for. As a rule, promotional links appear in the entertaining and educational content, like guides, reviews, instructions, and more. Users click the link and appear right on the seller's website or a pre-lander.
Mass media
Media sites cannot be overlooked – they can bring you huge traffic streams. These are informational resources, where product reviews are posted regularly. And, yes, many of them include affiliate links. Such promotions are usually efficient because mass media sites can boast of social proof and trust.
Email marketing
If somebody tells you that email marketing is a thing of the past, don't believe those people (probably, they are your competitors). Indeed, this marketing channel has been around for a pretty long time, but it still shows great results. According to Hubspot research, mail-outs generate $42 for every $1 spent, which is an astounding 4,200% ROI, and that's pretty high.
As any other marketer, an affiliate can use email lists for successful sales. Sending promotional messages along with affiliate links to potentially-interested users might be a great part of a promotional strategy.
Microsites
Microsites, as the name suggests, are small one-page (or a couple of pages) websites that appear separately from the main brand site. They serve to describe concrete goods and services and provide additional details about them. The best things about microsites – they are laconic and exclude distractions, so visitors stay focused on the offer only. Such pages are widely used in affiliate marketing.
Coupon websites
Coupon sites are perfect for the eCommerce sphere – people eagerly search for discounts and special offers when shopping online. Locating your affiliate links on such resources can help you reach shoppers and get more sales.
Advertising networks
An online advertising network or ad network is a company that connects advertisers to websites that want to host advertisements. The key function of an ad network is an aggregation of ad supply from publishers and matching it with advertiser's demand.
What are the main benefits of affiliate marketing?
Affiliate marketing is not the hardest nut to crack, but there are nuances. First, you need to work a bit to roll in, but then you will have to improve your campaigns to keep them going. In some cases, you will have to apply efforts to create banners, texts, and pre-landers yourself; do your best to find and use the best traffic sources to pour it on the landing page; and then your task is to improve and strengthen your campaign. But the juice is worth the squeeze – there are numerous benefits for an affiliate to enjoy:
Almost passive income
As we have already said, you really need to work hard to come up with a strategy and create really appealing content for your affiliate marketing campaign. And yes, you will have to refresh and polish it later. But in between, you don't have to participate in the process actively. If you get everything set up smartly, your campaign will bring you money at any time.
No need for significant investments
Many of you dream of starting a business, but we all know how expensive it might be. Affiliate marketing can be a great first step in your career and it is cheaper than any other alternative.
No excessive responsibility
Affiliate marketers are intermediaries, so they don't have to produce products, ship them, and communicate with customers directly. Your task is to choose the right affiliate offer and promote it.
Any serious risks are excluded
If you choose to buy traffic, then this is the only financial investment your campaign requires. However, it won't cost you a ton of money, so the risks are minimal. You can always move to another offer in case the previous one doesn't show desired results.
No need to communicate with buyers
Customer support is the responsibility of a product owner. Still, communication with the audience is a concern if you are going to promote products on your social media or blog. If so, make sure to choose something really great. The promoted products must be high-quality, otherwise – you risk losing your followers' loyalty and trust.
Time to get started! How to do that?
Today, affiliate marketing is a pretty trending topic, so finding yourself a program is not a big issue. Also, you can always rely on affiliate networks and get numerous product offers there. Now let's discuss some basic steps for your start:
Choose a vertical
In affiliate marketing, a vertical is a niche you work with. Pick a type of product you would like to promote, be it eCommerce, finance, software, or anything else you find interesting (and profitable) enough to advertise.
You are not restricted to a single vertical, so if you are feeling inspired, there is always an opportunity to try yourself in different spheres:
Hobbies: traveling, sports betting, games;
Finance: credit cards, investments, loans, cryptocurrency;
Health: nutrition, sports, diets;
Lifestyle: shopping, dating;
Utilities and software: VPNs, cleaners, browser extensions;
Entertainment: sweepstakes, surveys, quizzes.
If you are passionate about any of those verticals, this might be a great starting point. Remember that some verticals are more stuffed with competitors than others. Cryptocurrency and eCommerce are extremely competitive, while dating and utilities are known as great options for beginners.
Choose the marketing channel
The Internet is full of places for your ads. Websites, blogs, social media – these flourishing channels are waiting for your brilliant campaigns. You can write blog posts and guest posts; try to capture the hearts of YouTube watchers; tailor brilliant stories for Instagram; or rely on an advertising network.For social media and YouTube, make sure to include disclaimer and inform your audience that you advertise some goods or services. In advertising networks, you can choose offers from your favorite verticals, purchase traffic, and fine tune your campaigns to make them look really awesome.
Pick the offer
So, you have chosen a niche and decided which marketing platform you prefer. Now it's time to pick the offer – an affiliate product to advertise. In case you want to promote it on social media or blog, make sure that you pick something your audience may like. It's great to pick the offer that somehow correlates with the topic of your blog.
Join the affiliate network
With an affiliate network, you can create full-fledged ad campaigns and benefit from the analytical tools to evaluate them. The most advanced ones provide numerous instruments for analysis, optimization, and content creation. Also, such networks provide access to brands that hire affiliates and fresh offers: you will definitely find thousands of options there.
Choosing the affiliate program: what to consider?
When choosing an affiliate program, you should consider a couple of factors. Like these:
Commissions
Remember about CPA, CPL, and CPM payment models? Also, there are commission structures: recurring and flat. The first one means that you get paid for one sale of a product at a time. It's simple – the customer buys something through your affiliate link, and you get your dollars. The second one is popular with subscriptions – each time a visitor renews, you get paid.Try to find out everything about the terms of the deal before making it. For example, you might be wondering if the seller provides refunds to his customers and what happens to your commission in such a case. Would you be charged back or not? Do your research and make sure you have a clear picture of the payment conditions.
Cookies expiration
Remember that cookie lifetime stuff we discussed at the beginning? So, for some types of affiliate marketing, they are extremely important. Cookies are small data files stored at one's computer or smartphone to identify these devices. Longer lifetimes of cookies increase affiliate's chances to get paid for a delayed purchase.If your affiliate link expires too fast, the shopper might come back too late, so you won't receive your commission. Say, there are cookies that expire in 24 hours and those that last for a month. Obviously, choosing the second option is more beneficial for you.
Your audience
If your chosen affiliate platform is social media or blog, make sure that you promote products relevant to your audience. Choosing something irrelevant because of high payouts might be tempting, but you should think twice before doing so. First, you risk losing your audience after they see an irrelevant ad. Second, you will hardly get conversions – would the beauty blog fans actually buy equipment for fishing? Guess, not.
Payouts
Find out everything you can about the payouts, their frequency, how will you get the money, and which currency is offered. Make sure you know if you need to receive a specific sum before getting paid. For example, in some cases affiliates cannot use the money until collecting a certain sum on commissions.Always read terms and conditions of chosen ad networks and communicate with product owners (if possible) to know all the details.
Creatives
Some brands provide creatives, like banners and pre-landers, while the others rely on you. If you are building all creatives and writing promotional texts yourself, make sure you know the rules – are there any forbidden types of content you should avoid using?Check the landing page – the one that actually contains the product and the button buy/download/etc. Your creatives should be 100% relevant – the banners should reflect the product. Otherwise, you risk bringing people that are looking for apples, but they will find oranges at the end. And leave.
Competition
The level of competition is another important aspect to mind. As a beginner, you should be careful with overheated verticals like iGaming or cryptocurrency. They are profitable, but mind thousands of professional and experienced affiliates – they will become your rivals! As we suggested, start with something less risky, like utilities or dating.
Produce winning content
Now you have found the most suitable offer and even registered at an affiliate network. Good for you! And here is when the most interesting part begins – now you need to create really appealing content, so that potential customers won't be able to resist your offer.
Reviews
One of the easiest ways to start your affiliate marketing activity is to create product reviews. This is the most common way to start, especially if you are a blogger or video-blogger: you simply share your experience and impressions about the product with people. It's great to describe both – strong and weak parts – to make your review objective and trustworthy. Audience values informative ads.
Tutorial
Another form of a promotional text is a tutorial. You can show and explain how the product is used, so that your audience will be aware of all important information and get more inspired to buy it.
Case study or a story
A case study is a more advanced form of a product review. These are success stories that stand behind those goods you promote. One of the most popular formats: "before and after". For instance, you may tell a story about the way a product solved someone's issue in practice.
Pre-landers
These are the web pages users see before they appear on the main one. Pre-landers serve to warm users up, inform, and encourage them to try the offer. If they accept it, they are transferred to the product page. Your tutorials, reviews, or case studies can appear on those pre-landers to engage people and encourage them to move further.
Banners
Banners should include short and exact texts as well as relevant and bright images. As a rule, offer owners provide some banners or at least the rules for accurate creation.
Make sure that you always mind the country (GEO) you work with – not all countries speak English!
Generate or purchase traffic
Being fully-equipped with great creatives (your banners and pre-landers) and texts, you are ready to start driving traffic and getting some cash! Where to get it? Let's see:
Mailouts
Email marketing can bring users to your affiliate link, so you may try creating one for your campaign. The easiest way to collect emails is a so-called lead-magnet – something valuable users receive after providing their addresses.Lead-magnets are quizzes, free downloadable stuff, checklists, and more. In a word, they are anything that may intrigue people or make them interested.
SEO
A small pinch of SEO optimization can help you bring organic traffic to your ad. You don't have to spend hours trying to master the art of SEO – adding some keywords relevant to your niche is enough. This will increase your chances to have your page indexed by Google or any other search engine.
Traffic for money
Affiliate networks encourage you to invest some cash in paid traffic – this will help you locate the ads on the fruitful places and drive traffic to your offer.
What's next?
And the last thing we would like to mention – you should improve your affiliate marketing skills and optimize your campaigns to stay afloat. Let's talk about possible ways of improvement.
Keep up with trends
Track new technologies, marketing tricks, networks, etc. Since the affiliate marketing world develops pretty fast, you need to make sure that you don't miss something important and grab it to your arsenal.
Try various verticals and products
As you grasp the main principles of affiliate marketing, don't be shy to try various verticals, products, channels, creatives, and marketing approaches. Experiment and learn to work with different niches to expand your knowledge.
Testing and optimisation
Each of your campaigns needs a test, and then – a retest. Check analytics to find weak points and strengthen them. It is always hard to predict how your campaign will perform, so launching and evaluating performance is something you should do all the time. Let the campaign run for some period, gather data, and see if you can improve things. As a rule, affiliate networks include tools for analysis and even for optimization, so consider using them.
If you have been waiting for a sign to start your affiliate marketing career, well, this is it. Let this basic step-by-step guide become your inspiration – start your campaign today!
Most Popular
New deal for Rewardis: giving away a ticket to AW in Bangkok! 

Let's get straight to the point. We're going to AW in Bangkok on December 7-8 and we're giving away a COMPANY TICKET to anyone who will increase their traffic volume…

read more

Gear-Up: get the 7% of your profit increase for increasing traffic volume

Zeydoo is starting the new season with this Promo to help you boost your profit. No special effort needed, just increase your traffic volume and get the 7% of the…

read more

Driving traffic to finance offers: vertical overview + tips from media buyers

Finance vertical in media buying is one of the most stable branches with big volumes, high rates and the opportunity to get the ROI you expected every month. In Zeydoo…

read more